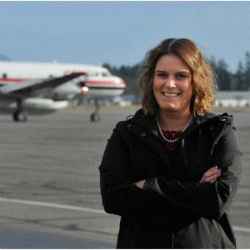 Conair is a Canadian specialty aircraft operations provider. It will upgrade its current ERP software to the Series 5.7 version of Ramco Systems' Aviation Suite in order to utilise advanced features and obtain productivity benefits. The application provides function integration in a manner matching Conair's requirements. It first installed Ramco in 2004 and this upgrade will see the company use the company for several years into the future.
Heather Murley, Vice President Finance, Conair, says: "The upgrade to Ramco Aviation v5.7 has enabled our business to get seamlessly connected. The comprehensive application from Ramco will not only simplify the life of a shop floor mechanic, but also streamline company-wide operations, eliminating unnecessary manual steps and ensuring real-time data availability to support decision making. With the ability to carry out smart operations and complete transactions through a single click, we are now moving a step further towards digitization."
Conair
Conair is a specialty aircraft operations provider. It delivers a broad range of aerial fire control products as well as services to a variety of national and international customers and partners. In this field, most regard it as a leader.
With over 47 years of fire management experience in aerial forest fire fighting Conair:
employs more than 300 skilled people
participates in excess of 8,000 fire management flight hours flown every year.
The Company maintains its leadership position by focusing on aeronautical engineering design and support services to fire-fighting.
The deployment
Functions provided by Aviation Suite 5.7 for Conair include:
Maintenance and Engineering
Supply Chain Management
MRO Sales and Finance.
Ramco has designed these to be accessible in a cloud and from mobile devices. The objective is to reduce transaction time both during AOG conditions and critical aircraft turnarounds.
What's it mean?
Ramco has a particular focus on the aviation market, which it sees as a growth area. Its software helps aviation companies ensure zero error tolerance and, thereby, higher delivers safety standards. This announcement may help other aviation maintenance companies to invest in the Ramco solution in North America.  While it has had some success the recent results were disappointing.
In addition, Ramco claims it is changing the paradigm of enterprise software. Perhaps the best example is its developing of application compatibility with Microsoft's HoloLens. If this succeeds it will bring Augmented Reality to maintenance operations 'in the hangar'. That could prove valuable to engineers and the aviation business.