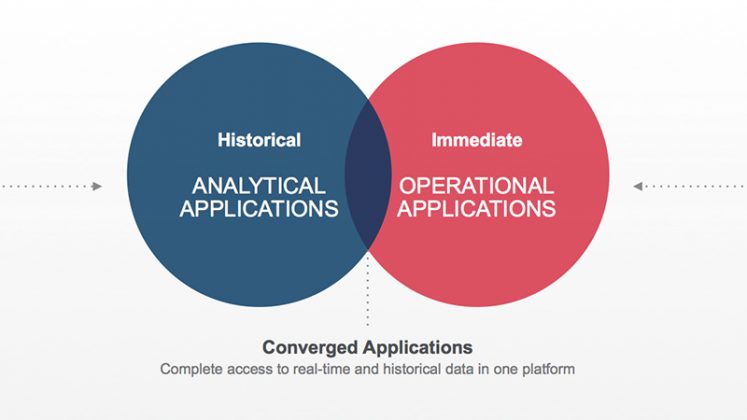 Converged data platform vendor MapR has reported an 81% jump in revenue growth for Q1 FY18. The company is reporting that the growth is a combination of new customers and upselling to its existing customer base. It is likely that this will continue into the rest of its fiscal year 2018.
Matt Mills, CEO, MapR Technologies said: "We continue to see deployments of a new breed of intelligent applications that transform the way data is used by organizations to achieve greater efficiency and advantage. MapR offers a unique production-ready data platform that can seamlessly support legacy and modern data technologies with the speed, scale and reliability needed by enterprise customers."
What is driving the growth of MapR?
Three big announcements in Q1 are likely to have contributed heavily to this growth and make it sustainable. They are:
SAP selected MapR File System to support SAP's cloud infrastructure storage capabilities: This was a major win for MapR and for anyone with experience of their products. SAP is in a fight not just with Oracle but a number of other ERP companies. It is working to move all of its customers over to its cloud platform and that means a lot of potential business for MapR.
A new Converge Partner Programme: MapR continues to add new partners at the rate of 35% year-on-year. These new partners are bringing in new business and importantly a lot of this seems to be large enterprises. So far, MapR has been able to maintain standards across its partner base. This is something it will needs to be careful of as it continues to grow quickly.
Shipped Converged Data Platform for Docker: The company is claiming to be the first to deliver persistent storage for containers. As organisations move towards containers to improve the speed and reliability of their cloud environments, this gives MapR a significant edge over the competition. It will be interesting to see what additional container technologies it supports next.
What does this mean for customers and investors?
For investors this is great news. The decision by SAP will help to drive the company forward and should mean that the growth rate will continue or even accelerate across FY18. What will be interesting now is to see if growth equals acquisition. The question is who would they buy and why? There are other companies in this space but that would just be buying market share. However, buying into a company with a machine learning or AI solution that could take advantage of their storage architecture would make sense.
The announcement is also good for customers providing growth doesn't accelerate beyond the ability of MapR to support and develop its products. There is a concern for customers in that rapid growth often outstrips the availability of skilled talent. Given the pressures on other parts of IT, some companies will worry that they may not be able to afford the staff they need in the short term.