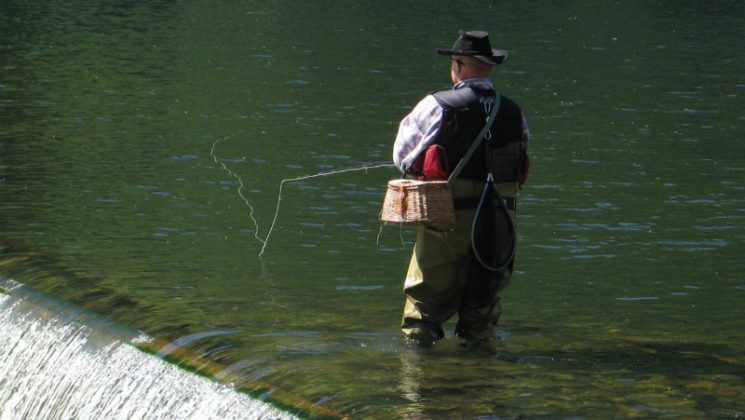 There is nothing more annoying than sending an email to someone, expecting a reply and receiving none. When you later find out that they were out the office for several days when you finally receive the reply just adds to the angst of the delay. By which time you have probably sent several more and got yourself a bit up tight. It is therefore a very good idea to let people know and the easiest way is to set up the Out of Office message in Outlook, so that when you receive an email the sender gets a reply straight away with a message stating why you are not able to respond and what they are to do and for how long this may be the case.
First off you need to know if you are working on an Exchange Server or not. If you are not, then this Tip is for you. If you are working on an Exchange Server, then it's much easier for you. Just select File from the tabs and there you will see "Automatic Replies" as a choice. Go through this section to set it all up.
This Tip is for those of you who don't have an Exchange Server. To start with you need to create a template email so that you can select this as the email to go out in response to receiving emails when you are away. Some mail hosting companies also offer auto-responders but you will need to login into web mail to access these.
Creating a template email
Select the New Email tool on the Home tab.
Do not place any email address in the "To" box.
Type a meaningful message in the body, giving details of when you start your holiday and the date you are back in the office is a very useful thing to state as the sender of an email will only receive ONE return email from you with this information.
You might like to create several different templates so that you can quickly choose the right one for each reason when it occurs.
Select the File Tab, then Save As.
Change the "Save as type" to Outlook Template.
This chooses the directory where this template will be stored for you.
Close the message and don't save it as a draft.
The next step is to create a rule that will reply to senders with the template you have just created.
Creating a Rule
In the File Tab on the Info section select Rules and Alerts.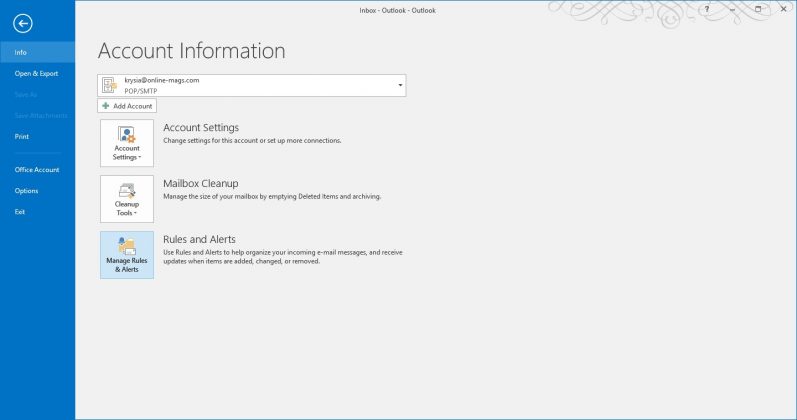 In this dialog box.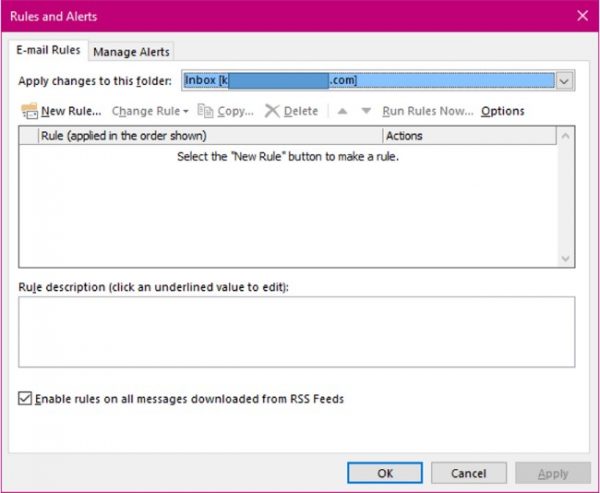 Select New Rule…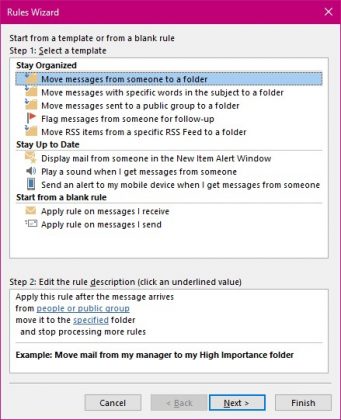 From the third section from the top in the Start from a blank rule, Select Apply rule on messages I receive.
Select the Next button. That will move you onto the next section.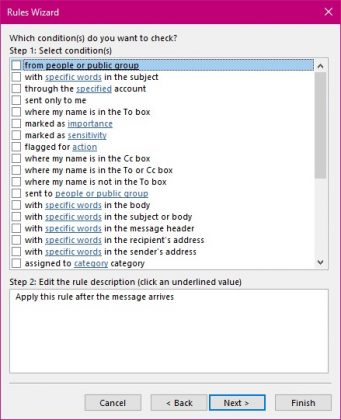 In this dialog box you can select the appropriate conditions you wish to apply to your rule. For the purposes of replying to all emails I suggest you simply select 'where my name is in the To or Cc box.
Select the Next Button.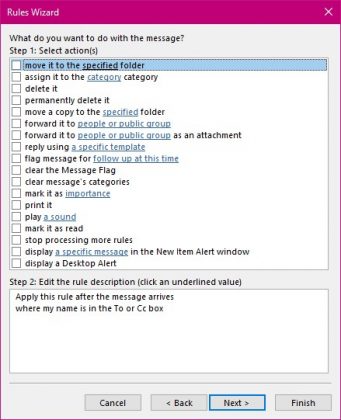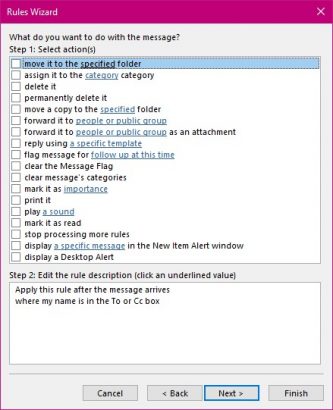 Here you can create a specific folder to hold these messages that come in while you are away by selecting the first option and then selecting 'Specified' in the lower window that is step 2 to select the folder.
This will take you to a dialog box where you can create your new folder just for this reason. Once created select it and choose OK.
Select the Next button.
This takes you to the Exceptions window. Make your choices if you have any.
Select Next button.
In this dialog box you need to give this rule a name and I suggest you call it something like "Out of Office Holiday".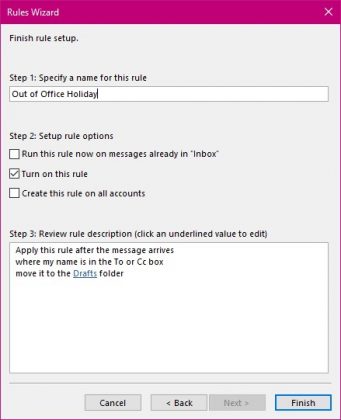 Select the Finish Button.
Select the OK button and your rule is set to run.
Turn off your out of Office message.
Select the File tab and in the Info section select Manage Rules and Alerts.
Uncheck the out of office Holiday rule.
Select Ok.
Welcome back to the office where you are set to receive emails that will not be replied to on your behalf stating you are not in the office.