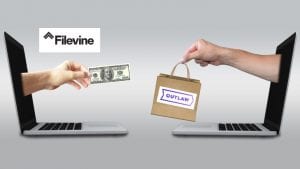 Filevine, the operating platform for legal professionals, has announced the acquisition of Outlaw, a Contract Lifecycle Management platform. Neither party disclosed the terms of the acquisition. It will provide an exit for Bowery Capital, the lead investor in a $2 million seed round of Outlaw in 2018.
Filevine CEO Ryan Anderson stated: "When we started to investigate the Contract Management space, it was obvious that Outlaw was the breakout product on the market. From their easy-to-use workflows and powerful customization for complex documents, they were simply a cut above.
"By bringing them under the Filevine umbrella, we will help all legal practitioners, whether in the corporate or private practice setting, focus on results rather than dealing with busy work."
The acquisition will extend the legal operations platform that Filevine provides, adding CLM to its other features that include:
Intake and lead tracking
Case and matter management
Document management
Billing & Timekeeping
Advanced reporting
Outlaw recently entered a leader in the G2 Momentum grid. It is also a high performer in the G2 Grid for Contract Management. The acquisition will see the Outlaw CLM solution integrated with the document management system bringing a high level of automation for the legal customers that Filevine markets too.
It is a sensible move by Filevine as it looks to consolidate and grow its position, especially as Clio, the market leader according to G2 reviews in case Management recently secured a Series E funding round of $110 million with a valuation of $1.6 billion, and is likely to consider acquisitions as part of its growth.
Outlaw
Outlaw CEO Evan Schneyer commented: "We started Outlaw to build a better way to do corporate contracting from the ground up. When Filevine approached us, the synergies were apparent from the start. Integrating Outlaw's tech into Filevine will add substantial value for Filevine's entire user base of 25,000+ lawyers. Now, they will have best in class contract management, with Filevine's leading platform built around workflows, communications, and reporting. This union means a more complete solution, all customized, all for them."
The question for many Outlaw customers is what this will mean for them. Outlaw currently targets not only the legal sector, especially internal counsel but also Sales, Finance, HR  and operations. There is potentially good news as Outlaw will remain an independent business unit. It will continue developing the CLM platform, led by Schneyer and co-founder Dan Dalzotto. Filevine will provide additional resources for engineering, customer success, and sales support with the intent of increasing its leadership in the CLM space. It is unclear whether it will focus solely on the legal sector going forward or will continue to develop functionality for the other functional sectors.
Enterprise Times: What does this mean
In the coming months, Filevine plans to roll out more features and functionality to assist legal teams. This acquisition will certainly accelerate that process and allow it to add an integrated CLM function to its platform. This should help increase the efficiency of clients the functionality is added. What was not stated is whether Filevine will embed Outlaw within Document management or become a separate, integrated module. There are still several questions that both Filevine and Outlaw customers will want answering.