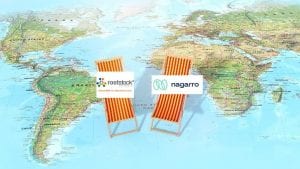 Rootstock has forged a new partnership with Nagarro the software development and technology consulting company. Headquartered in Munich, Germany Nagarro will partner with Rootstock across its operations in the United States, Nordics, DACH, and Middle East regions. This will bring Rootstock into the lucrative Middle East market for the first time.
Per Norling, General Manager of Rootstock International commented: "Considering the growth of Salesforce in this region (Middle East) and the growing number of requests for information we're receiving for our Cloud ERP, it's an attractive market for future growth. Nagarro also has a Dubai hub, which covers the Middle East.
"As such, Nagarro will give us actual feet on the ground, so we'll be better able to sell, implement, and support the Rootstock ERP solution. We're also glad to work with Nagarro to increase our market penetration in the U.S., Nordics, and DACH regions – these are large markets with incredible potential for growth. "
The partnership will give Nagarro a distribution agreement for Rootstock ERP in 24 countries. With Nagarro having 8,400 employees it will become Rootstocks largest channel partner. It is an indication of how much Rootstock has matured in the last few years.
Norling explained how Nagarro would work with Rootstock across the world: "In North America, where we have a direct-market approach, Nagarro with its eight offices will become our largest channel partner, and aside from our own Rootstock team, will provide a second distribution channel.
 "In many other countries where Rootstock is not present today, such as Norway, Denmark, and South Africa, Nagarro has a local office, and this will considerably extend our global reach."
Extending Salesforce into ERP
Nagarro has worked with Salesforce for eight years and is a System Integrator partner of the SaaS giant. Viyom Jain, Global Business Unit Head, CRM & ERP at Nagarro, why they chose to work with Rootstock going forward.
"With Industry 4.0, a cloud strategy with a 360-degree view of customers and business intelligence tools are crucial to the new enterprise. We view Rootstock's modern, flexible cloud ERP as a core component enabling companies to accelerate their digital transformation, to foster a connected workforce, and push the boundaries of what's possible with the Salesforce platform."
Norling then spoke about how the new relationship will benefit Rootstock: "Nagarro has a substantial product portfolio and customer base of which a majority of current ERP implementations are on-premise. With Rootstock as a partner, the Nagarro team can now offer a state-of-art Cloud ERP solution to these customers.
"In addition, Nagarro will take us 'upmarket' in terms of larger-sized companies with a greater number of users, more sophisticated functional requirements, and greater revenue. Since Nagarro is present in 24 countries, this also affords us the opportunity to address companies that may require an ERP vendor with a multi-country or multi-continental presence."
Rootstock has already replaced SAP in several manufacturers, and with this deal, it will hope to repeat that frequently.
Building a Rootstock ERP Practice at Nagarro.
Nagarro already has an extensive ERP practice and broad industry knowledge. Initially, it will create a team of 10-12 consultants trained on Rootstock. They will focus on the Manufacturing, Shipping & Logistics, Automotive, and Healthcare industries.
These will subsequently grow to become a global pool of resources. To create the team, Nagarro has drawn individuals from across its existing 800 strong ERP consultancy practice. Jain noted that "Consultants have prior MS Dynamics NAV, MS Dynamics AX, Salesforce and SAP experience."
The practice is starting from scratch. Nagarro has no existing Rootstock customer in its portfolio but is working with Rootstock on some active opportunities. With multiple ERP solutions within its global practice, Enterprise Times asked Jain how it determined which solution to pitch. He replied that it is based on certain parameters, including:
Clients business size, industry, budget
Client's existing technology ecosystem and its compatibility with the ERP platform
The business requirements and its mapping to ERP offerings
ERP solution history in the customer industry
Statutory compliance/ legal / taxation requirements
Enterprise Times: What does this mean
This could become a significant partnership for Rootstock in 2021. Per Norling commented: "We're excited to work with an innovative solutions provider of Nagarro's calibre. As a Salesforce consulting partner, they understand the benefits of having ERP and CRM on one platform. They have customer relationships with global leaders in manufacturing, distribution, and supply chain management, which is our target. Leveraging Nagarro's ERP team, we'll quickly extend and deepen our market reach."
Having a relationship with a leading SI is one thing, turning that from opportunities into live customers is another. Success will be measured by the number of customer go-lives and the size of the Nagarro Rootstock consultancy team in a year.
Salesforce is growing fast in the manufacturing sector. This is a huge opportunity for Rootstock and the Salesforce Manufacturing cloud over the coming months. COVID has ensured that manufacturers are more aware and receptive to adopting cloud technology. The question is whether Rootstock can convince them that they have the right solution. The deal with Nagarro will go a long way to helping with that.