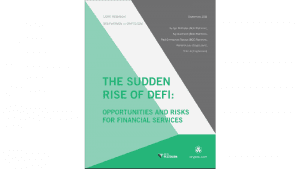 Crypto.com and BCG (Boston Consulting Group) Platinion have released a report on Decentralized Finance (DeFi), an area they see as being where growth is explosive. In the last year, the value locked into DeFi has increased 1500% to US$8B, according to DeFi Pulse.
As some analysts question how disruptive it will be to traditional finance, Crypto.com and BCG indicate that, although DeFi has the potential to disrupt traditional finance, leaders in incumbent financial services also have the opportunity to participate in and shape its impact on their businesses.
Kaj Burchardi, Managing Director with BCG Platinion said: "Whether companies choose to embrace decentralised finance or not, they still need to understand the impact it will have and track customer demand for autonomy, especially in payments, loans and exchange. By uncovering current levels of liquidity, charting the progress of regulation, and judging levels of risk – companies can continually assess whether services should be substituted for a more decentralised model. By partnering with Crypto.com, we have been able to advise companies with an honest appraisal on DeFi, giving them the tools to make informed decisions on its adoption."
CeFi and DeFi
Regulation and governance have given the centralised finance (CeFi) industry an enormous proportion of the value generated from financial services. While DeFi may be perceived as a threat to CeFi, Crypto.com and BCG's report offers a roadmap for financial services leaders to build a new generation of politically and technologically resilient financial solutions that are valuable and more relevant in today's digital economy.
The "Sudden Rise of DeFi: Opportunities and Risks for Financial Services" report explores the factors driving the growth of the DeFi industry, which is an Open Finance movement built upon public programmable blockchains such as Ethereum. DeFi's proponents expect a disruption of mainstream financial services by enabling:
financial services to be automated and performed by anyone
operation without a central authority or intermediary.
That said the report tempers the anticipated the wilder claims and beliefs of DeFi proponents. Instead it offers:
an assessment of the potential of DeFi
an examination of the current challenges facing the industry
a look at the underlying technologies.
Kris Marszalek, Co-founder and CEO of Crypto.com said: "Our joint research into DeFi provides a deep dive into the reasons behind its growth, differentiators against CeFi and its potential to disrupt mainstream finance. Whereas much existing research into DeFi is project-specific and crypto-centric, this report leverages both Crypto.com and BCG's respective areas of expertise to deliver a comprehensive side-by-side comparison with incumbents in traditional finance."
From the Crypto.com/BCG report: place big bets
A key part of the report focuses on what steps to take when adopting DeFI. It lists the following recommended activities:
define your DeFi ecosystem and its potential (and emphasises analysing the role a participant can or should play in the ecosystem during the introduction of a DeFi protocol and associated applications – see diagram below)
understand the opportunities for DeFi and decentralisation in an organisation and within its industry
be prepared to place big bets.
In the last section the report says: "Companies applying disruptive technologies and building new business models must place big bets. That means positioning respective projects as transformational new revenue initiatives. Therefore, DeFi initiatives will require internal sponsorship and an adequate level investment to secure the first-mover advantage and realise the expected benefits. Lastly, although regulation and compliance, or lack thereof, is one of the key risks that companies need to understand and manage, it also presents the key opportunity for emerging DeFi solutions."
Enterprise Times: what does this mean
DeFi has undoubted potential to bridge the inequality gap. It can do this by disrupting traditional finance – by making money, payments and other financial services universally accessible. Yet this carries the risk of disruption of CeFi, which might incur a massive penalty on every business and person.
As the Crypto.com and BCG Platinion report describes, DeFi can offer new ways for banking, trading and investing – perhaps even setting the standard for hidden economies to climb out of the shadows. Yet, as the report says, DeFi is encouraging commercial financial institutions, central banks and the crypto community to start collaborating in order to build a new-generation of resilient financial solutions. These will only have significance if DefI does not become hyper-focused on emerging economies or pure innovation. Integrating with CeFi matters.