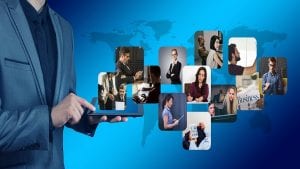 Digital River has pushed it biggest product release to date, and declared continued growth in partnerships and new customers. The company has also announced an outreach campaign intended to enable more brands to embark on their direct to consumer journey.
Digital River's new B2C LINK cartridge is now live on the Salesforce Marketplace. This allows Salesforce brands to integrate Digital River's Payments and Risk solution into their commerce platform to accelerate global expansion. This means mid-market to enterprise-level brands selling direct to consumers can keep their platform of choice and rely on Digital River's expertise to handle back office functions with a single solution.
"We believe brands should focus on what they know best. Their products and their customers," explained Digital River CEO Adam Coyle. "Our new LINK cartridge helps brands to confidently enter new global markets. Build the experience they want for their customers. They have peace of mind knowing that we are here to handle the complexity of taxes, payments, fraud and compliance. We have a solution that fits easily into their ecosystem."
More brands, new stores
The second quarter brought new implementations of Digital River's back of office Payments and Risk solution for eCommerce brands including:
Red Giant, owned by Maxon Computer, and offering software solutions for broadcast, film and visual design. The company has launched its eCommerce stores in four countries using Digital River's solutions through an API integration with its own internal commerce systems.
Innovation for eCommerce success
Simplified payments enablement – Digital River rolled out a new payment integration for customers called "Drop-in". It offers customers a fast and easy way to add new payment methods to their eCommerce stores. With Drop-in, eCommerce merchants enable localised payment methods and begin accepting payments on their websites with little or no customisation. This allows them to stay up to date with changing customer expectations.
New and Improved Documentation. Digital River has released new and improved documentation surrounding APIs and how to use them to implement back office capabilities.
eCommerce live event series
Digital River has created a masterclass series of live and on-demand events. The series are designed to help merchants learn more about selling on a global scale. In addition, they can navigate retail disruption by building a strong direct to consumer channel. To date, Digital River has brought together more than two dozen of the industry's best eCommerce experts to share best practices and insight on topics. These range from payment optimisation, global localisation, customer acquisition strategies, and more.
"Businesses need to be flexible in 2020. It's important to future-proof your brand by staying on top of the digital transformation we're seeing in eCommerce," said Ted Rogers, chief marketing officer for Digital River. "We've designed a learning series that will help companies understand their opportunities for growth in global eCommerce. We have leveraged our to help other brands thrive in a time of disruption by leveraging a direct to consumer channel."
Enterprise Times: What this means for business
It's been a busy year for Digital River. As a result of a competitive eCommerce platform marketplace, the company has  worked with its partner ecosystems to bring customers best-of-breed solutions for their eCommerce stores. They are working closely with top system integrators to ensure the solutions are seamlessly integrated into enterprise's technology stack. In Q2 its community grew with 11 new integration partners, including Astound Commerce, Born and Blue Acorn. The company's latest release, which it describes as its biggest is bound to support future growth in terms of partnerships and new customers.