The latest Xero SBI (Small Business Index) shows that SMEs are continuing to shed jobs across the UK. A 2% fall in jobs during July is being blamed on the Government phasing out the furlough scheme. SMEs are concerned that they won't be able to recover for some time so are retrenching their businesses into survival, not growth mode.
There is some good news in the SBI. Revenues are showing some signs of stabilising and even slight growth. In June, they were down 17% year on year. By the end of July, that improved to just 13%. It's still not growth in real terms, but it does mean losses are slowing.
Gary Turner, managing director of Xero, commented: "Our data is showing some semblance of a bounce back compared to when we first went into lockdown. But it's concerning to see that employment amongst small businesses is still falling. It would be tragic if the furlough scheme has just delayed the impact, rather than acted as a bridge to recovery. 
"Over half of our GDP comes from small businesses. They've shown huge resilience in recent months, so it would be hugely damaging to our economy if they don't get the continued support they need as they recover." 
SBI shows signs of recovery in some sectors
Some sectors, however, are beginning to buck the trend. Construction is back to just 5% below the same period last year. Talking to several small builders, one reason for this is fixing DIY disasters. Another is that work from home has caused many homeowners to reevaluate their property. Some are looking to expand to create office space and also upgrade kitchens and bathrooms. Others are preparing for sale and looking at what can be done to increase the value of their property.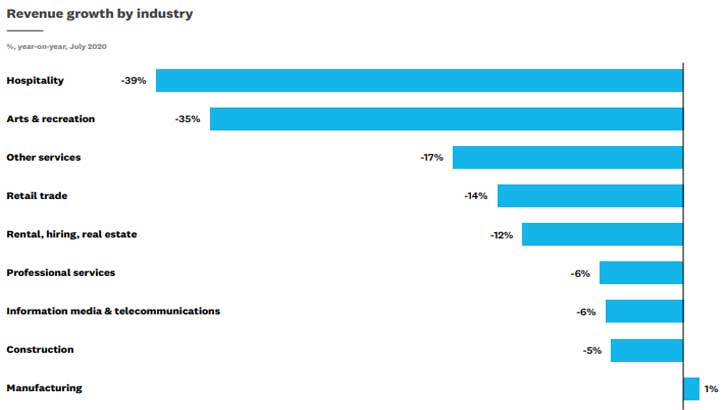 Manufacturing is the first sector to show revenue ahead of last year. It posted a 1% increase in revenue. It is good news for a sector that has struggled over the last few years. However, the sector has still lost jobs with employment just over 5% lower than in March.
One sector that is adding jobs is Information media and telecommunications. Employment across the sector is up 3.6%. This is being driven by a demand for greater broadband services for those working at home. However, revenue is down 6% year on year, almost certainly due to the continued collapse in advertising spend across the wider media sector.
Hospitality continues to bleed jobs and revenue although August's numbers, which will benefit from Eat Out to Help Out, it may show a welcome reversal. In July, however, employment across the sector was down 15.4% from March, even when seasonally adjusted. Revenue has collapsed for many of these small businesses. The SBI shows it down 39% year on year.
Which regions are being hit the hardest?
Of concern for the UK government will be the regional breakdown of job losses. Before the pandemic, it claimed it was focused on doing more to spread jobs and wealth across the country. This won't be so easy. London has seen a 4.4% reduction in jobs which is far less than the West Midlands (10.4%) and the East Midlands (8.8%).
The only region with more resilience than London is the East of England (3.2%) which, at this time of year, sees an influx of agricultural workers.
As furlough ends, there is concern that sectors such as retail, financial service (including banking) and hospitality, will see an increase in job losses. Those numbers won't be known for a couple of months.
There are, however, more immediate threats to jobs, especially in the Midlands and the North. The SBI states: "Another risk to the economic outlook is if the virus re-emerges in the UK, especially when the cooler months arrive. There have already been some local restrictions put back in place and a tightening of visitor rules in some areas, including major cities such as Manchester, in response to local outbreaks. "
Enterprise Times: What does this mean?
There is no easy route out of the current economic and jobs situation. Some sectors will be heavily impacted while others will have a softer landing. One factor that will hit many SMEs in city centres is the return to work in offices. An increasing number of large businesses are saying that they will continue work from home for the majority of staff.
It won't be a complete desertion of the office, as many are planning for a hybrid model where staff spend some time in the office. This should, at least, provide some comfort for the small hospitality businesses that exist to service those office-based workers.
More people doing work from home could drive a shift in the market. If fewer people are in offices, they won't have all the expense that entails in terms of travel costs. They will also have more time to spend on leisure and family activities. Over the next year, there is a possibility that we will see a shift in where businesses are located.
Another possibility is that redundancies as furlough ends, coupled with a tighter jobs market, will drive a new generation of small businesses. For companies like Xero, this could be extremely good news, especially as Making Tax Digital is set to extend to cover the majority of small and micro-businesses.