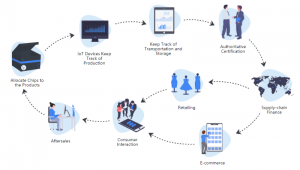 VeChain is to become the sole public blockchain protocol of the APAC Provenance Council. The latter is a cross-continental food supply chain and finance consortium established to integrate blockchain technology into food supply chain finance in Australia-China trade.
Currently, the core founding members include Fresh Supply Co, Source Certain International and Laava. Affiliate members include VeChain, FoodAgility CRC (Cooperative Research Centre), DNV GL Business Assurance, Australian Made, GS1, Blockchain Australia and several others.
David Inderias, APAC Provenance Council Executive Chairman says, "Many solution providers have offered 'track and trace' services, but haven't addressed industry needs in a comprehensive way. In a post-COVID world when many commercial entities are in decline, we are growing by making sure to deliver real economic value, meeting industry needs, as well as including funding sources for industry."
New roadmap to a Post-COVID-19 food industry
The Australian Department of Agriculture predicts China will account for 43% of global growth in demand for agricultural products by 2050. It believes that Australian agri-product suppliers, with a reputation for quality, can take advantage of China's growing demands for quality produce and food security.
In February 2020, the Australian Government published its National Blockchain Roadmap. This seeks, pro-actively, to address opportunities in the agri-tech and food industries. The unexpected effects imposed by Covid-19 further lifts the urgency to pushing forward this initiative.
The pandemic is posing a direct threat to food and beverage vendors around the globe:
supplier cash flows have reduced substantially
there are many calls to for immediate invoice finance – to unlock unpaid invoices and stimulate business growth
The public awareness of food safety has reached unprecedented heights – including in China (according to a study of InTarget Shanghai, Chinese consumers have become more health and safety-conscious and this will continue to be reflected in future).
The role of the APAC Provenance Council
The Asia Pacific Provenance Council is an industry alliance hoping to:
help exporters digitally enable and scientifically prove the provenance, traceability and authenticity of products
tell the stories behind supplier brands.
By combining resources from all its members, the APAC Provenance Council aims to:
provide a comprehensive blockchain-enabled food supply chain finance ecosystem
bridge traceable, safe and trusted trades with shorter billing terms between Australian suppliers and Chinese importers.
Powered by AliPay in Australia, all the B2B payments for China-destined trades from Australian food suppliers will receive milestone-based payments. This will be in the form of a fiat payment upfront upon meeting the first milestone of each trade's delivery terms. For food suppliers in Australia, when they export food products traced by VeChain ToolChain, the entire process of product delivery create a record, including logistics information, temperatures during processes and so forth.
Acting as the 'trust machine' in multiparty collaboration, blockchain provides immutable and authentic records:
ensuring a secured process of logistics transfer (thereby bringing transparency and trust into cross-continental trade)
shortening the billing/payment cycle for suppliers.
VeChain as sole public blockchain protocol
With the agri-food market evolving, the demand for business-ready standard blockchain tools could see dramatic growth. This is where VeChain's ToolChain may have the opportunity to support agri-focused enterprises and, in so doing, create more value.
What is relevant here is that VeChain already implements blockchain technology in various industries to solve real problems. In proven cases – VeChain points to examples like that of FoodGates – VeChain seeks to make supply chain finance more effective.
In this context VeChain's ToolChain comes as a 'Blockchain-as-a-Service' (BaaS) platform. ToolChain offers a range of services including:
product lifecycle management
supply chain process control
data deposit
data certification
process certification.
VeChain believes that, with ToolChain, any size of business can, using immutable data:
make use of blockchain technology for supply chain processing
enhance brand perception and value
expand into new business models.
Sunny Lu, CEO at VeChain, stressed that, "Guided by the mission of powering the real economy, VeChain positions itself to be an Enabler to empower our partners with blockchain to build business applications in various sectors. The implementation of blockchain certainly contributes to buffering the immediate economic impacts of the pandemic for the enterprises, and will help improve productivity by unleashing more resources and growth opportunities."
Enterprise Times: what does this mean
VeChain claims it connects blockchain technologies to the real world by providing a comprehensive governance structure, a robust economic model and IoT integration. Established in 2015, VeChain has now had some five years' experience of pioneering real-world applications using public blockchain technology.
Whether the selection, by the APAC Provenance Council, of the VeChain protocol makes much difference is an open question. The opportunity will certainly be there. Perhaps more important is that, VeChain already possesses strategic partnerships with PwC and DNV GL as well as cooperative relations enterprises like Walmart China, BMW, BYD Auto, H&M, LVMH, D.I.G, AWS, PICC, ASI, and others.