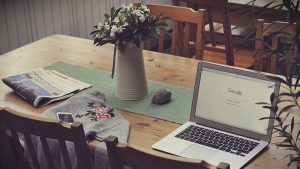 Thousands of people are likely to be working from home for the first time this week due to the coronavirus outbreak. So, what's the best way to stay efficient and keep your spirits up?
In short, get set-up for your day: wake up on time, get dressed, set-up your workspace in the right way to be productive, get moving and take regular breaks, stay connected and adapt your working style to ensure you work from home effectively. This is the first in a series of three blogs about working from home.
Set up your workspace in a quiet comfortable place in the home, away from distractions if possible. NHS advice is that you should adjust your chair so you can use the keyboard with your wrists and forearms straight and level with the floor.
Get dressed for your day – this maintains the physiological connection to work and creates a business mind-set.
Set 'to do lists' for each day, as you would in the office.
Use Skype for business, where possible, or other video channels – turn your camera on! Calling or video conferencing people and having a conversation can be much more stimulating and productive than a chain of emails.
Check in with your People Manager and wider team daily, but keep communication proportionate. Many people tend to over-communicate when working from home – either wanting to 'be seen', or overcompensating. You know if you're on task and being productive, so don't waste energy on worrying about appearances.
Put the radio on at a low volume; have some background noise to create the atmosphere.
Keep hydrated – even mild dehydration creates impairment in thinking and decision-making.
Take regular breaks from the screen to avoid stiff muscles or eye strain and have a defined lunch break to recharge your batteries. Many home workers recommend the Pomodoro Technique, a method of time management which breaks your working day into 25-minute chunks. Each 'chunk' is followed by a five-minute break.
Ensure that you do some exercise during the day to promote feel-good hormones and mental well-being – outdoors, if possible, but indoors could also work well. Being cooped up/static without stopping for a break can mean your productivity levels drop, you become more tired and less motivated.
Keep your eye on the time, work reasonable hours and set a definitive end to your day and plan a relaxing activity to look forward to after you have completed work.
This article was original published by Menzies
here
---
Menzies is a top 20 leading firm of accountants, finance and business advisors that operate out of a network of offices across Surrey, Hampshire and London, providing our clients with easy access and local knowledge. Described as the 'best performing firm outside of the top 10' by Accountancy Magazine, Menzies has over 400 employees and an annual turnover of more than £40m.