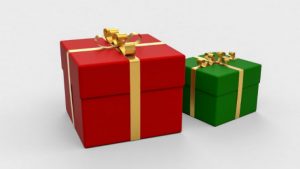 SourceDay has announced the addition of two new modules to its supplier collaboration engine. It has added a Request for Quote (RFQ) Collaboration and solution for Accounts Payable Collaboration (APC).
Tom Kieley, SourceDay CEO commented: "SourceDay's mission is to prevent the reasons companies miss with suppliers before those misses create problems throughout the business. Our new RFQ and AP products improve our ability to deliver on this promise. Market uncertainty, tariff wars, and labor shortages make it more important than ever for companies to improve visibility and trust in the first mile of their supply chain."
Enterprise Times asked Kieley some questions about the new products. These seem fairly comprehensive offerings that can add significant value to procurement teams. Kieley believe that the new modules offer manufacturers and distributors additional value. He noted: "SourceDay benefits any manufacturing organization or distributor that routinely experiences costly misses when it comes to supplier collaboration against procurement demand."
Both solutions have been used by a handful of customer for nearly a year. Kieley noted that: "Our early adopters of the AP solution now process 95% of their invoices through our platform, virtually eliminating invoice discrepancies, preventing overpayments, and ensuring our customers can take advantage of early payment discounts with their suppliers."
The RFQ solution appears to have similar early success for customers. Kieley said: "Our RFQ customers have processed thousands of RFQs through our solution, which has saved their businesses millions of dollars, in less than a year, by ensuring they choose the most competitive and qualified suppliers. "
SourceDay RFQ Collaboration
This module enables procurement teams to both control and automate the entire RFQ process. Users can create and distribute new RFQs to approved suppliers. Any updates and changes to the RFQ are automatically shared to relevant parties. The system also supports a repository for schematics, CAD drawings and other documentation for suppliers to access. This ensures a level playing field for suppliers whose responses are automatically compared by the system. This analysis is then shared across the organization. Upon completion, the winners and losers are appropriately notified to ensure open and honest communication. As all details of the process are recorded electronically, everything is available for later analysis for compliance purposes, if required.
ET asked Kieley about the complexity the solution allows. He replied: "SourceDay RFQ provides a central place to compare an unlimited number of Supplier responses across an unlimited number of data points, related to materials quoting. And then, as users compare supplier quotes, they use prescriptive workflow to ask questions, select, award, and notify materials suppliers. This approach makes it easier for everyone to have visibility on any RFQ and hold each other accountable."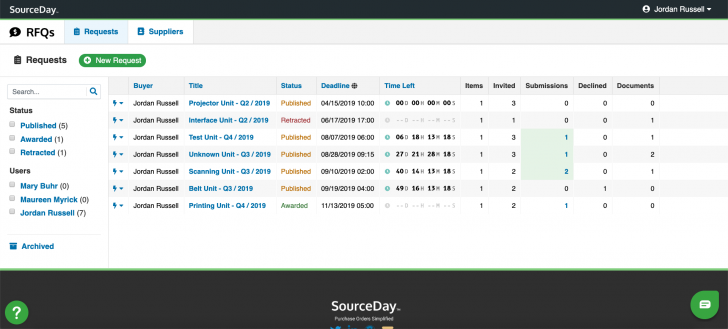 Once deployed this delivers several benefits to users:
Suppliers, never miss an RFQ or award
Visibility into the historical pricing for all locations of customer
One place to see frequently asked questions and RFQ documentation
Centralize all communication with a customer in one location
Bidding process is optimized and accelerated with fewer delays
Why is this needed? Kieley noted: "RFQ that injects unnecessary risk into any organization that doesn't have a systematic way to manage and hold business users accountable. Many businesses require that procurement teams regularly quote parts and components across hundreds or thousands of suppliers, comparing specifications, quantities, pricing, availability, lead times, and quality. Without software, this process is managed with emails and spreadsheets, creating chaos and complexity. Managing that complexity manually creates cost and the risk that companies don't choose the most competitive suppliers. "
SourceDay APC
Supplier invoice discrepancies cause a headache in processing time for the buyer and cash flow issues for the supplier. The latter is especially the case if it holds up other payments. The Accounts Payable Collaboration module provides an automated three-way matching process between purchase order, receipts and invoices. It makes the whole process more efficient, delivering benefits to all parties.
A single dashboard provides a view for buyers to see the current status of invoices and purchase orders: mismatched, matched and pending. It will highlight exceptions and enable collaboration with suppliers to quickly resolve any issues. Invoices can be ingested either automatically through an email gateway or the buyer can upload them to the system.
Importantly, invoices matched to the relevant ERP solution will be vouchered. The suppliers are kept informed and finance are able to take advantage of any early repayment terms agreed.
Louise Mayer, ERP Implementation Manager with Napoleon commented: "Like many manufacturers, reconciling mismatched invoices has always been a challenge for us. SourceDay's new AP Collaboration product has saved us money and made our lives easier. We process 95% of our invoices automatically now, which ensures we earn early payment discounts on most of our spend. It's a smart choice for any organization looking to make a short-term investment that pays you back in just a few short months."
What else do you need to know
Pricing for both solutions is based on the" "breadth of implementation, number of users and volume of transactions." The breadth of implementation no doubt includes the integration requirements with ERP and other factors. Both modules are generally available now.
ET also asked Kieley what is on the roadmap for these modules: He replied: "Our platform is rich with data that enables our customers to make more informed business decisions against their direct materials spend and supplier risk. We will continue to add analytics and dashboards for our users to make more predictive and dynamic procurement decision as it relates to their materials spend. "
It also seems likely that other improvements will be customer driven as the solution is taken up by new and existing customers. Kieley added "Also look out for direct supplier integrations with major distributors. We'll have more to say on this soon."
Enterprise Times: What does this mean
While the Account Payable Collaboration is a welcome addition, there are several competing solutions in the market. Where SourceDay differentiates is that this is an natural addition to its supplier management platform. It also comes from the point of view of procurement rather than finance.
The new RFQ module is more interesting. Once SourceDay publishes a case study to demonstrate the breadth and complexity that the solution can cope with, there may be several interested companies looking to improve their procurement processes with this module.
SourceDay claims that this is: "the most robust direct-spend platform". It is an interesting distinction as other platforms such as Scout RFP offer similar functionality. Kieley acknowledges this but commented: "Scout is primarily focused on indirect sourcing. Our solution is strategically and purpose built for the direct materials industry; manufacturers and distributors collaborating with suppliers."