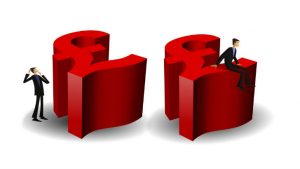 Advanced has announced that Vista Equity partners has sold a share of Advanced to BC Partners. Vista acquired Advanced in 2015 for £750 million. The terms of the deal were not disclosed in the press release. However, The Telegraph and the Financial Times reported that the deal saw BC Partners pay £2 billion including debt for a 50% share of Advanced.
The investment from BC Partners is targeted at helping Advanced grow faster. BC Partners is described as a private equity firm specialising in buyouts and acquisition. The inference is that Advanced will grow through acquisition having  already increased its size significantly since Vista took ownership. In the last few years it has recruited more than 900 people, completed six acquisitions and launched 14 SaaS solutions.
Gordon Wilson, CEO, Advanced commented: "This investment is an exciting development for Advanced. Today's business leaders are under constant pressure to innovate, in order to sustain a competitive advantage. Vista and BC Partners share our vision for the future and will work to support our growth, benefitting our customers through continued improvement of our cloud-based software solutions and extending our offering through M&A and further innovation,"
Powering the next phase of growth
For Vista this comes at a time where it may feel it wants to share the risk of growing the company further. It has overseen the restructure of the organisation, assisted it with acquisitions such as Modern Systems, Oyez Professional Services and Kirona. It now has more than £250 million in annual turnover and offices in UK, US, India and France. BC Partners will provide expertise to help it acquire business across Europe as it looks to expand internationally.
Robert F. Smith, Founder, Chairman and CEO of Vista Equity Partners commented: "Since 2015, we have worked closely with Gordon and the Advanced team to transform the Company into a leader in business software solutions. We are proud of the success the company has achieved and we are thrilled to have BC Partners join as an investment partner as we look forward to the Company's next phase of growth."
Nikos Stathopoulos, Partner at BC Partners commented: "Advanced has the hallmarks we look for in our investments – a market leader in a growing sector, with a strong management team and multiple levers for growth, both organic and by acquisition. We are pleased to partner with Vista and the Advanced leadership team to drive even more success for this high-quality business."
Enterprise Times: What does this mean
After four years of ownership, Vista has looked to half its risk in Advanced and bring on board a second partner. The two companies have worked together before, with BC Partners entering into a majority re-capitalisation of NAVEX Global in 2018. The quotes in the two press releases are similar. The reports in other publications indicate that BC Partners have also bought a share of the debt points to a similar deal being struck with Advanced.
What this should mean is that Advanced is freed up to expand internationally and potentially to other markets. However, it is already targeting several and one questions whether it needs to focus on fewer of them. Ironically, Vista only invested in Aptean earlier this year after that company had refocused itself to fewer verticals. It has products ranging from manufacturing, healthcare, legal, ticketing solutions as well as ERP, HCM and Payroll solutions. Will BC Partners insist on a stronger focus for an organisation that is now the third largest software company in the UK? The combination of Vista and BC Partners is interesting though. BC Partners will provide the acquisition expertise across different markets where Vista has experience of working closely with several software firms.