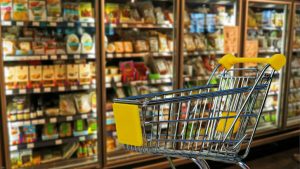 JDA and Panasonic have announced a partnership to jointly develop and market integrated solutions. Panasonic technology will be integrated into the JDA Luminate family of solutions.
The first integrations are already on show at NRF this year. They include:
Visual Sort Assist system: Panasonic Virtual Sort Assist uses scanning technology and image projection to change the efficiency of package sorting in warehouses. Linking to JDA in real-time, enables warehouse managers to make decisions on operations even before issues arise.
Out-of-stock detection:  Panasonic Out Of Stock detection solutions immediately inform the JDA system that shelves are out of stock. This reduces the necessity for staff stock checks and means that appropriate processes for restocking are put in place by the JDA solution.
Flowline analytics: The integration of JDA Luminate Control Tower with Panasonic Flowline Analytics, brings together two powerful analytics capabilities. Control Tower provides a powerful crisis control centre for the supply chain. The Panasonic Flowline Analytics provide insights into human movements and behavious. Together they can provide a complete solution for the allocation of workers and equipment such as forklifts. That can help increase productivity in the supply chain from shelf to warehouse and marketing to consumers in the aisles.
Facial Recognition: The combination of Luminate Control tower and the powerful Panasonic Facial Recognition technology has several applications. Panasonic supports a blacklist of 1,000 faces to help alert security of potential shoplifters. It can help optimise workers by staff ID and location as well as detect and predict shopper behaviour. This can provide powerful analytical information about behaviour to power security, merchandising and evaluate marketing decisions.
Not just technology
JDA and Panasonic will jointly market and sell these solutions in each others home markets and elsewhere.
Girish Rishi, chief executive officer (CEO), JDA commented: "The autonomous supply chain transformation is just beginning and it will be built on correlating edge technologies with enterprise supply chain software. The JDA partnership with Panasonic to co-innovate and deliver solutions to our customers is a major step in that direction.
"Not only will this strengthen JDA's presence and footprint in Japan, it will also put these new technologies in the forefront of customers' minds in JDA's Customer Experience Centers in Scottsdale and London as well as Panasonic's Connected Solutions Company headquarters in Tokyo, giving customers a tangible look at the autonomy they can drive in their future factories, warehouses, and stores."
Enterprise Times: What does this mean
For JDA this is a deal that could help it cement and expand its presence in Japan. For Panasonic it is another partnership to help sell its technology to more regions. It may also help to increase its presence in the USA. It appears that this is not the only partnership that Panasonic is looking to announce.
Yasu Higuchi, CEO of Panasonic's B2B business, Connected Solutions Company commented: "As part of our solutions business strategy, Panasonic is using the know-how we have cultivated in the manufacturing industry and our own core technologies to become a total solutions integrator for customers in the logistics and retail fields. However, knowledge and hardware alone cannot completely solve all our customers' needs. Through this collaboration with supply chain industry leader JDA, I am confident that we will create synergies with JDA's AI/ML-based Luminate software solutions to comprehensively solve the problems facing our customers."
For retailers these solutions provide a cutting edge for store operations. Indirectly it will also improve the consumer experience. That is important. This was shown in a recent survey that demonstrated the disconnect between consumer and retailers opinions that has a direct consumer interface such as bots. This is a deal that could help both JDA and Panasonic. However, it does not appear to be exclusive and Panasonic is likely to desire partnerships with other retail solutions.