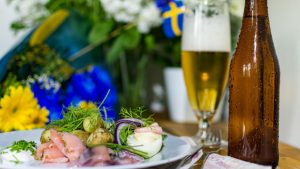 Infor has announced that Spendrups, a Swedish brewery has invested further in Infor technology. Spendrups has used Infor M3/Movex for several years but has now invested in selected Infor Optiva and Infor Advanced Scheduling. The aim is to decrease the time to market for its new products.
Spendrups Bryggeri was founded in 1897 and is a family owned brewing business that can trace its orgins back even further to 1735. It produces more than 400 million liters of drink each year for brands including Norrland's Gold, Mariestads, Heineken, Loka, Briska, Nygårda and Schweppes. Brewing is highly competitive and it needs to develop new products efficiently. To do this it turned to technology.
Infor Product Life-cycle Management
Infor Optiva is a PLM solution that enables companies to reduce the time to market though improving efficiency and integration with the manufacturing ERP process. It integrates the R&D process throughout the whole organisation from research, through testing to production, for example. This will mean that labelling for new products is accurately updated with the latest information.
That connection between research, procurement and final production was seen by another customer. Bob Wimpfheimer, Senior Manager, R&D Knowledgement at Dr Pepper Snapple Group described how Optiva has changed the way in which the knowledge held within the R&D department is now more available. That includes the data that passes to food labelling that can identify key ingredients such as allergens seamlessly. Wimpfheimer described it as: "What used to be folk wisdom, tribal knowledge is encoded into the system in a way that is useful for us."
This is just one of the benefits that Spendrups will also look to achieve through the implementation. More efficient development, better labelling and faster product delivery to market. If it can accomplish that it will hope to increase market share. Spendrups is the second largest brewer in Sweden according to a recent Flanders Investment & Trade report. More important though, is the emergence of craft beer breweries that are nibbling into the actual share. According to the report by 2018 there were 250 craft beer breweries in Sweden. That number compares to 20 in the 1990's. If Spendrups can develop and produce more, different beers, faster it will hope to protect its position. Possibly even close on Carlsbergs current leadership in the market.
Infor Advanced Scheduling
Spendrups will also implement Infor Advanced Scheduling as part of its digital transformation. The creation of beers includes multiple tanks and filling lines. The maintenance requirements, changeover times when dealing with multiple brands is increasingly complex. The Infor Advanced Scheduling solution will allow Spendrups to increase efficiency. In turn, it will increase the amount of production capacity without the need to invest in expensive capital equipment.
These changes are important to keep up with competitors. Anna Darnhede, IT Specialist, Spendrups commented: "The beverage industry is facing increased complexity with time to market and adaptation crucial differentiators in fast paced sectors. At the same time an increased number of products, categories and packaging variants adds further pressure on production planning and creates a need to maintain a high capacity utilisation and service ratio. Digitalisation is absolutely fundamental in navigating these challenges and through our deployment of Infor Optiva and Infor Advanced Scheduling, we are confident that we have the best tools to drive innovation and build market share in our chosen categories."
Enterprise Times: What does this mean
Infor continues to expand its footprint in the food and beverage market. What it does need to do is deliver on these customer wins. Another Brewery, Fullers, announced that it had selected Infor Technology back in 2017, to date however, there has been little news about it. That may be about to change though. In its last report and accounts Fullers cited its migration to the new ERP solution as a priority for 2019. It is looking to deliver improvements to stock control, traceability and distribution. That it will have taken two years to complete, is not a surprise, it was a far bigger project than at Spendrups.
However, what it does show is that brewing companies are looking to modernise and update their technology stacks across the globe. Johan Made, Managing Director, EMEA North Region, Infor commented: "FMCG companies are really up against it, as pressure to deliver an inordinate amount of products, categories and packaging variants mounts. Digitalisation is crucial as organisations step up to ever-challenging markets and inevitably, the winners will be those who select applications focused on increasing agility, fostering innovation and increasing speed to market."