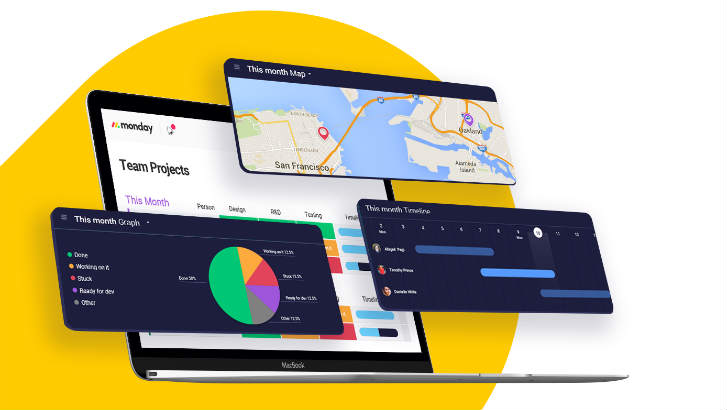 monday.com has announced in a blog that it has raised $50 million in a series C funding round led by New York based Stripes Group. In fact the news first broke just over a month ago in a press release posted by monday.com. Many people will have seen the TV video advertisements by the SaaS workforce collaboration. How significant is this announcement by monday.com?
The funding rounds bring the total raised by monday.com to $84.1 million. It has estimated revenues of in excess of $20 million according to Reuters who state that: "the company tripled revenue to tens of millions of dollars". Owler places its revenues at a more modest $6.8 million (source Owler.com). The company claims to have 130 employees and a customer base of more than 35,000.
monday.com day is seeking to disrupt the traditional way of organising how work is done. It first came to the attention of the Stripes team in 2016. The relationship grew to the point that when monday.com were looking for funding, Stripes stepped up. The funding round was also supported by its existing investors, Insight Venture Partners and Entrée Capital.
New features
Along with the announcement monday.com launched two new features and monday.com stories. monday.com Stories delivers insights on how customers are using its software in different ways. They highlight both new and old features to improve the ways in which customers work.
Board views introduces different ways in which users can view their data. These include geographically, in a time line within a chart and a calendar view. The column center introduces 15 new columns that users can add to their existing boards. These include time tracking, a creation log and location views.
Expansion
monday.com is spending the investment to: "..accelerate monday.com's ambitious growth strategy, scale international operations, develop further product integrations, and continue to refine vertical-specific customization." That expansion has seen an additional 23 job roles appear on the job board at monday.com. The roles appear to be based in either Israel or New York.
What isn't yet clear is how monday.com will expand internationally. This is often expensive. While the software appeals to smaller customers it is also looking to penetrate larger enterprises. It is starting to gain traction in this sector with users in companies including WeWork, Adidas and McDonald's.  It is unlikely to succeed at scale with this unless it has feet on the ground in more countries though.
What does this mean
This is a significant investment for monday.com. It can continue to improve its product with the funding and will also need to ramp up its sales and marketing efforts to bring in more customers. Its competitors such as Wrike and Trello are also growing. While its spend online has propelled it forward, it still needs to do more.
Ken Fox, Founder and Managing Partner of Stripes Group commented: "We are thrilled to be partnering with Roy, Eran, and the rest of the monday.com team in their mission to transform the way people work together. monday.com's broad applicability across use cases, verticals, and geographies position it well to be the next truly horizontal platform for the enterprise."
As it builds out its vertical functionality it will be interesting to see how its sales campaigns develop and whether it attracts interest from a larger software company.