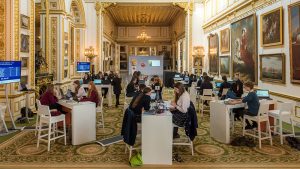 The National Cyber Security Centre (NCSC) has announced details of 2018's CyberFirst Girls Competition.
CyberFirst Girls targets 12 to 13 year old girls in Year 8 (England and Wales), S2 (Scotland) and Year 9 (Northern Ireland). The top 10 scoring teams will face off in the final to be held in Manchester during March 2018.
The winning team will take away £1,000 to spend on IT equipment at their school and some individual prizes.
Registration for the online phase is now open. The online challenge will start on 29 January and close on 5 February. Those taking part will face up to 100 different challenges set by experts from the NCSC and GCHQ. There are two groups of challenges, specially-created logic boxes and regular expression crosswords. The challenges are designed to test both the intellect and cyber skills of those taking part.
Why is NCSC targeting young girls?
According to Chris Ensor, NCSC Deputy Director for Skills and Growth: "We want to inspire the next generation of tech-savvy young women to consider a career in cyber security and make a positive impact on the world.
"Females are worryingly under-represented in the global cyber workforce, but there are exceptionally talented girls in our schools. We hope this competition can help to knock down some of the barriers holding them back."
The UK is looking to solve its cybersecurity skills gap in two ways. The first is by increasing awareness of what cybersecurity is. This is to be done through education in schools and a number of other initiatives. The second is by launching a series of competitions across multiple age groups. These are backed up by CyberFirst courses opened to all 11 to 17 year old and run by the NCSC.
This particular course is aimed solely at 12 to 13 year old girls. The decision to run a girls only competition is about equality in cybersecurity. Only 10% of the cyber workforce is female and the NCSC hopes that by targeting girls it can begin to address that problem over time.
In a statement from Jeremy Fleming, director of GCHQ, he said: "Too often, society limits girls in what they aspire to achieve. Our CyberFirst Girls Competition will give teams the opportunity to develop new skills, meet new people and gain an exciting insight into the world of national security. I hope many of you and your friends will be inspired to enter – and perhaps take the prize!"
What does this mean?
One of the challenges of changing the skills balance in a workforce is the time taken to develop the right curricula and then deliver it. The involvement of NCSC and GCHQ with competitions and courses around CyberFirst takes some pressure off of teachers. The decision here to create girls only courses will be welcomed by many diversity campaigners.
CyberFirst is not just about courses. There is a £4,000 annual bursary available to university students who are studying STEM subjects. The problem last year is that it was poorly publicised. This led to the NCSC putting out a press release in November calling for students to apply for the bursary. In addition, there is a CyberFirst degree apprenticeship. This offers a three year apprenticeship at GCHQ where those who complete the training will end up with a degree in cybersecurity.
Importantly, this is not the only competition targeting schools. The Cyber Security Challenge UK has been running competitions aimed at schools for some time. It has competitions for 10-16 year olds and those in further and higher education. This sits alongside their online CyPhinx challenges and their face to face (F2F) competitions that lead to the Masterclass final. They also take teams to international competitions.
All of this focus on helping to educate the next generation of cybersecurity workers is good news. It should help to close the skills gap over the next several years. Competitions also raise awareness of the issue with companies. Over the last two years, several large companies have announced their own cyber apprenticeship schemes.