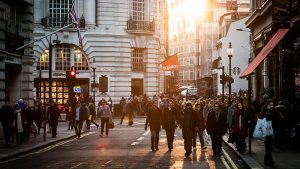 The world of HR is changing quickly and getting increasingly more complex according to a new survey from Cascade HR. Along with external challenges such as GDPR, locating and recruiting the right talent is not easy. Many of the new entrants into the workforce are no longer looking at a safe job for life. Instead, they are just as likely to turn down a high paying job for one that meets their personal and often moral goals.
Even after the talent has been recruited the challenge of engaging with and keeping them is getting bigger. HR is no longer the Personnel Department of the 1970's and 1980's. It now has to deal with a much wider and increasingly difficult set of issues.
Against this backdrop, Cascade HR carried out a survey across 447 UK participants. The results are available as a report entitled The 2018 HR Landscape: What's in store? The survey asks what were the key challenges for 2017 and what is expected in 2018. The results are interesting and will raise eyebrows among a number in this field.
In a comment Cascade's CEO Oliver Shaw said: "There can be no disputing that 2017 has been a very fast-paced and challenging year for the entire business community, not just HR teams. And with matters such as Brexit far from conclusive, the changing landscape will undoubtedly keep everyone on their toes.
"But, let's face it – there is never a time when organisations do not encounter external pressures of some sort. It's how companies and their workforces deal with it, which is important."
Can HR find and hold onto employees?
Recruitment was the biggest issue in 2017 for 52% of respondents. The survey doesn't go into any details on why recruitment was such an issue. Skills, experience, equality balance and salary demands are all possible candidates. Looking ahead to 2018, only 33% thought this would continue to be a major challenge. With no obvious change in the employment landscape, this sudden drop in recruitment issues is strange.
The second big challenge from 2017 was absence management (43%). It will drop to joint third place for 2018 with slightly fewer people (33%) expecting it to get worse. This is interesting especially with the Winter Olympics, the Commonwealth Games and the Football World Cup. Perhaps more employers are planning to provide TV coverage in the office.
Employee engagement (39%) is set to jump from third place in 2017 to first place in 2018 (41%). Announcements from several HRM software providers show that they are expecting this to become more important. New software provides ways for staff to access HR via mobile and web apps. The challenge here is that it takes time and money to implement these systems. It is likely that many HR teams are not sure that their existing HRM systems can deliver.
In both 2017 (37%) and for 2018 Staff retention issues are expected to be just as bad in 2018 as they were in 2017. This is unsurprising. There are serious skills shortages across several technology sectors and this will continue to drive the current recruitment poaching war. This is another area where the survey could have gone much further. It could have asked about retention strategies or even gathered more detail on which roles will be the most challenging.
Diversity and discrimination still taking a back seat
With so much focus on finding, attracting and retaining workers there were always going to be areas that were not high on the agenda. In 2017 there was a huge spike in the conversation around the need for diversity. Discrimination based on nationality also became a talking point especially in the aftermath of the Brexit vote.
It is surprising, therefore than just 6% of respondents felt that diversity and discrimination were an issue in 2017. That is little changed as HR teams look forward in 2018 with just 7% mentioning it. There are significant challenges in both areas coming up in 2018. Cybersecurity is a good example. Many IT security vendors are actively trying to widen the diversity of their security analysts to gain a better view on the mentality of attackers.
The Equality Act 2010 states men and women doing equal work must be paid the same. The problem with that legislation is proving the pay gap. This year all companies with more than 250 employees much publish gender pay figures. This has already resulted in a problem for some large organisations and the impact of backpay and equalising pay scales will hit smaller companies harder as they have less money available to settle with staff.
GDPR and privacy laws also throwing up problems
GDPR is another area where there is likely to be serious challenges for organisations. Staff will find themselves with more rights to demand access to data held on them. They will also be able to force employers to remove data from their records. Just a few respondents <4% mentioned GDPR as a challenge in 2017 and for 2018.
However, in this case the survey did probe a little deeper on the subject. Only 12% feel that they are significantly well prepared. This is a very low number indeed. There are less than 140 days until GDPR kicks in. For many organisations, reviewing their existing processes, policies and implementing solutions will be difficult in that time. For smaller companies who may have no real policies to begin with, that time will disappear very quickly.
The good news is that 61% believe that they are somewhat prepared. Exactly what that means and whether they will be ready by 25th May is unclear.
12% of respondents were not sure where the their organisation was with regard to GDPR. For those in HR to not know what was going on with this significant piece of legislation is a surprise.
This leaves 13% who admitted to be somewhat underprepared and 2% who are significantly underprepared. This group face a serious challenge going forward and it is surprising that any HR team has left it so late to deal with this issue.
What does this mean?
HR has a number of serious challenges to deal with. Legislation is coming down more and more on the side of employees. Employees are also becoming increasingly picky about what they want from a company. There is a greater demand for new Corporate Social Responsibility (CSR) programmes from potential employees.
At the same time there is a constant demand for workers with new skills. Some organisations are investing in retraining their workforces. Others are taking the easy way out but just hiring people with different skills. All of this means that there is a lot of competition for talent in the market.
To reduce the turnover of staff, HR is having to find new ways to engage with employees. Fortunately, technology companies are already on the case. However, changing software to deliver better employee engagement programmes is costly and time consuming.
Legislation is also taking its toll on HR. While it is rarely seen as a top issue, it is an underlying pressure that never goes away. Surprisingly, as with diversity and discrimination, some organisations feel that they have got it under control. However, GDPR and equal pay requirements show that this is not the case.
Shaw believes that HR is more adaptable than employees often realise. Commenting on the whole survey he says: "It just goes to show that, when it comes to difficulties within this landscape, HR does not sit still. So, whilst 2018 may present ongoing challenges, I think teams are equipped to tackle them."