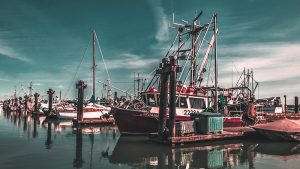 Juniper Networks has announced a deal with The Marine Institute in Ireland. The deal will see The Marine Institute deploy Juniper Networks Software-Defined Secure Networks (SDSN) to protect its mission critical data. The data comes from research vessel surveys, remote sensors and a new subsea observatory.
According to Keith Manson, IT systems & operations manager at The Marine Institute: "Our national marine facilities are a significant addition to Ireland's IoT infrastructure. Whilst we assist marine researchers and businesses involved in the 'blue economy,' we also provide scientific and technical advice to the government to help inform policy and to support the sustainable development of Ireland's marine resource.
"With a huge amount of valuable data in our care, we needed a security solution that is flexible and with unified threat management capability to protect our entire operations system at every level of our network."
What is Juniper providing?
The Marine Institute has decided that it cannot rely on firewalls alone. It has Juniper SRX1500 Series Services Gateways already in place and uses the Junos Space Security Director to manage these. It wanted to look in more detail at the traffic flowing in and out of its network. One reason for this is the increased use of apps both local and cloud-based that access its data. Some of those apps are used by its own staff and some by partners.
It has now expanded its security with the Juniper Sky Advanced Threat Prevention (Sky ATP) solution. This gives it the ability to look at all traffic flows. It can spot what data is being accessed and moved and where it is going. It also allows it to improve the detection of malware by screening all downloads and apps to its local network.
The solution is to be installed and managed by Agile Networks, a Juniper Networks Elite partner.
What does this mean?
Networks are not like national borders than can be easily defended. They are increasingly porous as organisations allow more and more external partners to access their data. At the same time their own staff are looking to take advantage of mobile working and cloud apps. This means that data flows freely in and out of the network.
Hidden in all that data are data breaches and malware. The Marine Institute has a remit to share government data with third parties. To protect that data and its own networks it had to improve its security stance. The deal it has done with Juniper Networks makes sense. It is something that a lot of enterprises need to consider. They too are sharing increasing amounts of data with partners and seeing staff use applications over which they have little or no control.
It will be interesting to see how long it takes to get this solution in place. It should be a relatively easy upgrade given the existing relationship between the two parties. A more interesting set of data will be how many attacks the new solution spots and if those would have previously gone undetected.