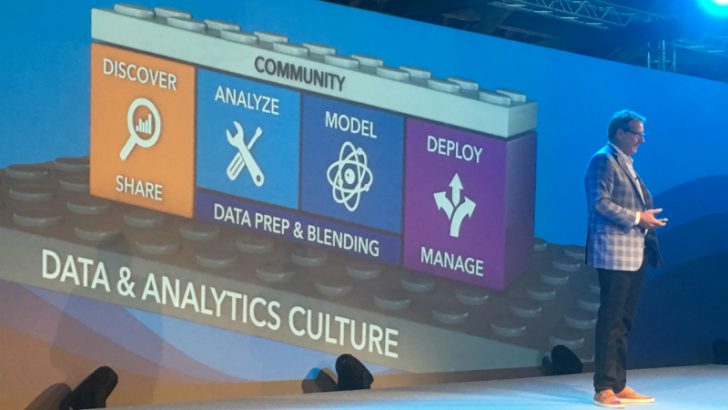 Dean Stoecker, Chairman and CEO of Alteryx opened Inspire 2017. His speech created an image for the audience of the Alteryx platform and led to him announcing the next piece to help complete the picture, Alteryx Promote.
Stoecker said Alteryx will: "Bring the thrill back to problem solving." He used analogies of historic inventions that automated processes. He believes that Alteryx is the latest in a long line of "products" that will make a significant difference.
What was powerful, were the customer comments in a video montage that were shown before he began. "Process from 4 hours a week to 4 minutes". "Doing things I never dreamt of before". "Double or triple the team strength to do the same work load". One customer related Alteryx to walking through the gates of Disneyland for the first time, they didn't know what to try first.
This was not a keynote that merely said how great Alteryx was, despite the above. Instead Stoecker spoke about an area that has challenges. He covered how the Alteryx platform helps organisations combat those challenges.
So what is Alteryx Promote?
After their IPO and a flurry of acquisitions Alteryx is now looking to enhance its product as it seeks to grow. Alteryx Promote is based on the IP of Yhat, a company that Alteryx acquired earlier this year. The problem that Promote aims to solve is while data scientist create new models, they rarely see production. In fact according to research Stoecker said: "Only 13% of data scientists say models always get deployed". It forms the deploy and manage component within the Alteryx analytics platform.
The reason for this is that once those models are created, it needs the development team to integrate them into corporate application. Developers often have conflicting priorities and this delays the implementation of those models.
Promote enables data scientists to bypass the bottleneck of developers once the initial code is inserted into an applications html. This makes the initial deployment simple. Ashley Kramer, VP product management at Alteryx commented: "It cuts down time and cost and it gets us a step ahead of getting there faster."
The second deliverable is that Promote also manages the models that data scientists create. Both versioning and unit testing is supported within the product. The allows data scientists to iterate their models and move them rapidly into product rather than wait for a development cycle to complete.
Finally Promote captures the usage of the model by users. Users are able to see how often a model is called, what the inputs and outputs are. Additionally they can verify whether they are working as expected using the system health overview.
Is it available now?
Yes and no. It appears that the product has appeared by customer demand. Kramer commented: "There was so much interest so what was announced this morning was a limited release." The product will go on general release in 2018. There was a lot of enthusiasm about the product from several customers that we spoke to in teh audience at Inspire. It seems that following the success of Alteryx Connect it has another well received product on its platform.
What else is coming
Alteryx is also looking to improve Alteryx Connect in the coming months. It will integrate the communication tools with other products. Two names that came up were  Jabber and Slack. They have also announced three SDKs to support Python, HTML and Alteryx Connect. The first two are currently in beta.
What does this mean
Most of the buzz around the audience was the excitement around Alteryx Connect. There was a lot of talk about how it is helping companies locate, track and understand their data. With a growing understanding of Alteryx Promote enthusiasm for the new product also waxed.
Stoecker commented: "Alteryx Promote puts the power back in the hands of data scientists for model deployment. By making it easier and faster to get advanced analytics models deployed, we are bringing joy back to data scientists who love to solve complex business problems but have struggled with that 'last mile' of getting models in production."
Companies are using Alteryx to build their own analytics platform and deliver value to businesses. ET will shortly publish a number of podcasts explaining how new business initiatives, powered with the help of Alteryx, are really making a difference.