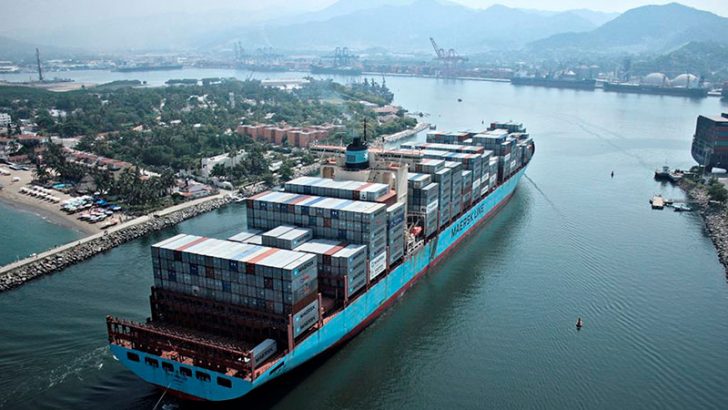 IBM and Maersk have announced they are to collaborate on a blockchain solution to track cross-border supply chains. The project is aimed at reducing the paperwork and increasing the security of shipping containers as they move around the world. There are tens of millions of shipping containers being moved around the world at any point in time. This creates a need to track them effectively to reduce crime and increase visibility.
According to Ibrahim Gokcen, Chief Digital Officer, Maersk: "As a global integrator of container logistics with the ambition to digitize global trade, we are excited about this cooperation and its potential to bring substantial efficiency and productivity gains to global supply chains, while decreasing fraud and increasing security.
The projects we are doing with IBM aim at exploring a disruptive technology such as blockchain to solve real customer problems and create new innovative business models for the entire industry. We expect the solutions we are working on will not only reduce the cost of goods for consumers, but also make global trade more accessible to a much larger number of players from both emerging and developed countries."
What does blockchain offer Maersk?
In two words, competitive advantage. Each shipping company and container port have their own container management solution. A lot of money is spent each year maintaining the integration between these systems. There is also a need to integrate with the customs systems run by governments around the world. It is a complex problem that creates gaps that allow containers to be lost, stolen or misused. A high percentage of counterfeit and stolen goods are moved in containers. The growth in people smuggling has also seen criminal gangs expand their use of containers into that market.
What allows containers to be lost or used by criminal enterprises is the complexity of the paper chain. Blockchain offers an irrefutable digital footprint around each container. As a secure system access can be restricted to limit the risk of criminals identifying and targeting containers. Each containers blockchain ID is updated as it is moved. This means that there is a highly trusted record of where the container is.
IBM is already working with Dubai Customs and Dubai Trade to track all goods in and out of the country. It is likely to be using that project to demonstrate interoperability across multiple blockchain solutions. This is a key goal that Maersk will want to see. There is no point building a solution that cannot integrate to government run blockchain solutions. One of the big issues here will be the ability to move a blockchain ID across multiple systems.
The supply chain benefits of blockchain
All of this is done in real-time which offers substantial benefits throughout the entire supply chain. The press release highlights five of those benefits:
Blockchain, an immutable, security rich and transparent shared network, provides each participant end-to-end visibility based on their level of permission.
Each participant in a supply chain ecosystem can view the progress of goods through the supply chain, understanding where a container is in transit. They can also see the status of customs documents, or view bills of lading and other data.

Detailed visibility of the container

'

s progress through the supply chain is enhanced with the real time exchange of original supply chain events and documents.

No one party can modify, delete or even append any record without the consensus from others on the network.
This level of transparency helps reduce fraud and errors, reduce the time products spend in the transit and shipping process, improve inventory management and ultimately reduce waste and cost.
These are not the only benefits available. The deal between IBM and Mahindra sees Mahindra Finance able to access blockchain records. This allows them to identify where goods are and to speed up payment to small suppliers.
IBM is also deploying blockchain across its own supply chain. It claims that this has reduced the number of disputes and cut the time taken for resolution from over 40 days to less than one week. The solution has also reduced the amount of money IBM has tied up in disputes with suppliers. It is about to move from pilot to full implementation and more details are expected at IBM InterConnect 2017 in two weeks.
Conclusion
IBM gave its blockchain assets to the Linux Foundation run Hyperledger Project last year. Since then it has announced over 25 major blockchain projects ranging from government to banking, supply chain to security. It seems determined to be the largest player in the blockchain market and to set the agenda for the technology going forward.
For Maersk and other organisations involved in the supply chain this is good news. This is not just about lowering the costs of managing the paperwork and systems integration. By speeding up the interoperability of blockchain solutions IBM is making it possible to add new customers and systems easily.
There is also a major cost cutting drive taking place in the container shipping market. Carriers are disposing of ships far faster than ever before due to oversupply. It has already claimed a major shipyard in Korea. Maersk will see this deal as giving it a significant competitive advantage over other players.