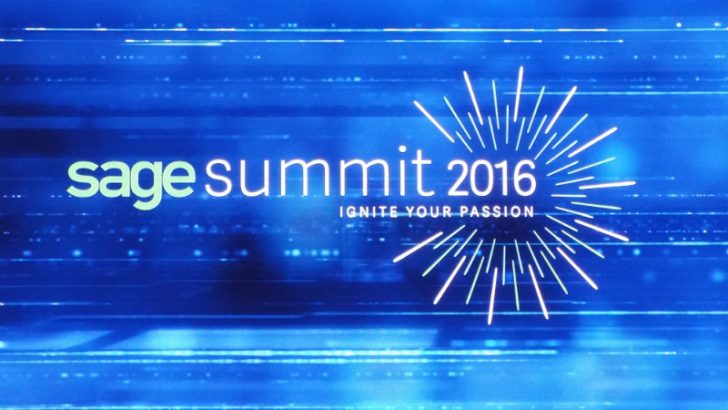 The Sage Summit has kicked off in Chicago with the tagline Sage is Serious. Mike Ditka, the Chicago Bears Championship winning player and coach opened the event by calling the Sage team to the line. This set the tone for the partner element of the summit in a rousing way. Alan Laing, Executive Vice President Global Strategic Partnerships & Alliances took up Ditka style to the delight of the audience. By the end of the keynote they were reacting positively to all his calls to action.
It is this historical legacy, 20,000 channel partners in total, many of them small accountancy firms that lies at the heart of the difficult for Sage to transform itself. Stephen Kelly and his team are certainly trying to accomplish that but it is going to take time.
Sage is serious about channel
Laing highlighted the important of channel to Sage saying: "Sage is truly serious about partners and how we grow and work together to build our companies."
It is one thing to make the statement another to actually prove it. Laing and subsequent visitors to the stage repeated the message over and over again. Soon it began to sound like the Sage mantra. Under the new leadership of Stephen Kelly they have delivered in a number of areas. Partners voiced their complaints in New Orleans last year and Laing said Sage has listened. Throughout the partner day Laing and others pointrf out the changes that they are making.
Putting partners first has resulted in the channel day being held before the main conference. In some ways one suspect this muted the message that Sage were able to deliver. Customers and other delegates arriving on Tuesday meant that news had to be saved for other keynotes. Ironically this led to some complaints amongst the audience that the change in timing had its own issues. Among those issues were losing access and the time to discuss the event with senior execs. The problem is that one can never please everyone with any format.
Delivering on promises
Laing told the audience he spoke to more than 1200 partners in New Orleans. He has put together a plan to answer them with a commitment to achieve five goals to answer those critiscisms.
Deliver product roadmaps
Keep things simple
Improve demand and Lead generation
A great brand message
Easy to do business with
The Sage Channel leaders addressed each of these things in turn. Sage has released its first ever product roadmap for each application to the channel. This will be expanded during the rest of the week. Sage is also simplifying its channel programs, from 54 down to 1. This is a massive undertaking but Sage is clearly focused on making its new Sage partner program work.
Sage is also aiming to improve its brand awareness, especially in North America with new marketing campaigns. Interestingly Sage is allowing the channel partners to make full use of these campaigns just a few months after they have started. They will hand over the collateral that partners can use for their own marketing initiatives and advertising. This will save the channel considerable sums and time. It will also enable Sage to deliver on its ambition to become an "emotive" brand. There was also talk about their aspiration to matching brands such as Virgin or Apple.
What Sage demand of its channel
The flow is not all one way and Sage intimated that partners that do not deliver may suffer consequences. Those consequences were not outlined but other competitors have been culling non performing channel partners.  The call to action was hidden deep in the positive messages and contained three calls to action:
Be open to what your business can become: The inference is that Sage expects partners to grow their businesses. Expanding the number of Sage applications from 1. The average is currently 1.2 and Sage numbers Sage Accounting, payments and payroll as the three elements that are available for sale.
Acquire new customers: Sage is in a bullish mood, no longer does it want partners to sit on revenue streams but it is asking (not demanding) that they want their channel to sell its new cloud solutions.
Sage has "doubled down" on its commitment to partnerships for example by increasing marketing spend. It expects its partners to do the same, reinvigorating their commitment to Sage and doubling down themselves.
The objective is to achieve a growth from 38% to nearly 50% as a share of revenue for the Sage group.
Conclusion
It appeared as though Sage was gently nudging its partner channel to cloud. Over the next few years one suspects that the message will become stronger and fall in line with its competitors. The problem is that many of its channel partners have decent recurring revenues from legacy on-premises solutions. It appears as though there is a belief that the channel has an lack of desire to embrace the new digital economy. Sage is attempting a balancing act. It wants new customers to understand that they are investing in new technologies such as bots and blockchain but doesn't want to scare aware the cash cow that still provides much of its revenue.
In the end the message ended up slightly confused. It will be interesting to see whether the message to customers is clearer during the rest of the week. One suspects it will be. In fact it might be that the Sage customers are more likely to pull Sage partners into the cloud as they demand change. The question for Sage is whether they have a partner ecosystem that is archaic and out of date.
What  is clear is that Sage is serious about channel. It is investing heavily in its new simplified program. It is delivering a marketing message that it will share with, and one the channel can take advantage of. Sage is answering the criticisms one by one that has hindered its relationships in the past. This is a new Sage that is emerging, the question is whether it can do so fast enough.
Disclosure : Sage paid for my travel and expenses to attend Sage Summit 2016