This article is based on a press release originally dated 7th August 2015. However since publication Missy Schmidt, VP Marketing at Xtuple informed us "… Apologies for the confusion – this is an older analyst report that was published with an incorrect date. ". We have left this on site is for completeness as Google have indexed both the press release and article with recent dates.
The latest version released by XTuple of its open source ERP software is 4.9.0 and is inspired by Marvel comics "Ant-man". The new version has resolved 164 bugs and introduces 75 new features.  The enhancements key improvements are within the user interface (UI), mobile web inventory system and event management.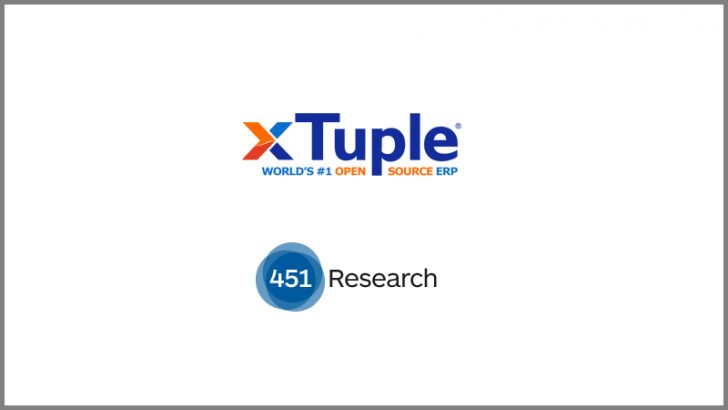 XTuple and Research 451
Press releases always vary between companies, but few take such an open form as XTuple's announcement about the release of version 2 of their OpenMFG, the ERP manufacturing suite. As well as revealing what is included in the release, the key features being a limited CRM and multicurrency support, they have merged it with an article produced by 451 Research

OpenMFG 2.0 has been release by XTuple with several major enhancements including CRM and multi-currency support. The double edged sword of an  Open Source product like OpenMFG is that development and enhancements develop in ways that are not always best suited to its market attractiveness.
In the release, XTuple appears to have commissioned Research 451, the information technology research and advisory company to review the new release and offer an analyst view of the firm and its position in the ERP market. According to the press release, this was carried out by Martin Scheider, Research Manager, Enterprise Software at 451 Research.
This is nothing unusual as companies will often refer to analyst articles in their news. The problem here is that XTuple, Schneider or whoever wrote the release has left in data from 2005 raising the question of whether this really is an authorised Research 451 update on XTuple or a PR bodge. The style is the same as the work they would have licensed in 2005 but with Schneider having left Research 451 in 2013, it is hard to see how this can be accredited to him.
XTuple and OpenMFG
The bare bones of the story is that XTuple has produced a new release of OpenMFG, and this includes several feature upgrades including a new CRM feature and multicurrency support. The product appears to have already been beta tested by several companies including ones in Canada, UK and India.
CRM and multicurrency are not the only improvements to the Open Source software there are also changes for the manufacturing module. These include a new master product scheduling and forecasting module and a new feature names "Buffer management" that identified bottlenecks within the process flow for a manufacturing process. XTuple believe that bottlenecks are easily identified where inventory, labour or vendor lead times are at fault. This is an interesting enhancement though details are sketchy.
The assessment of the CRM appears to be honest. XTuple have not recreated Salesforce for Open Source as it only has the basic functionality that may meet the needs of its customers. However it is certainly an improvement from Scheider's initial analysis in 2005 where he said "There is little to no CRM integration yet, but this must be addressed ASAP if OpenMFG wants to ramp up business.".
10 years for the company to rectify Schneider's criticism is surprising but without sufficient customers asking for CRM integration this may well be down to XTuple waiting for customer demand to hit a critical level. Software vendors who grab shares of the market often produce features that the customer isn't aware that they need before they need it. XTuple, using the Open Source approach either waits for someone to write the code and have it tested or need a customer to pay for the enhancement.
The CRM includes a universal address book allowing multiple contacts to be assigned to each company, though a single account cannot be both a vendor and a customer which seems limiting. Other features include a trouble ticket system and task list.
In struggling to develop their own CRM system one questions why they didn't integrate the solution with an existing Open Source CRM, such as the last Open Source version of SugarCRM or its successor, SuiteCRM.
The remainder of the press release then goes into what appears to be a more updated market analysis and finally a very simple SWOT table. This may indeed be an updated version from Schneiders 2005 article but it seems unlikely.
Conclusion
The news is that XTuple have release a new version of OpenMFG that includes multicurrency support and CRM integration as well as several other new features. Existing customers will no doubt find the simple CRM useful, though they may quickly become frustrated by its limitations. This may be a good thing as they may provide some finance for XTuple to improve the solution. Alternatively they may buy something else entirely such as Netsuite that offer's both the Manufacturing ERP and the CRM already.
We will be asking both Research451 and XTuple for some comments on the press release and it will be interesting to see what the responses are.