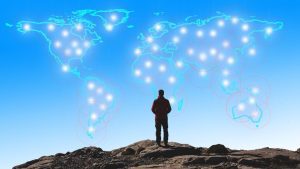 The State of Flux, a leading procurement and supply chain consultancy, has published an impressive report titled Extended Enterprise, 2023 Global SRM research report (registration required). At 108 pages, the report is not a brief one. The report is based on a survey of over 500 individuals from over 350 organisations from around the world. The report is unusual in that it is a comprehensive look at the state of Procurement and supplier relationship management. It contains as many qualitative and attributed answers as data points. Many of the quotes come from the State of Flux team.
The report was also sponsored by KY3P at S&P Global and Enable. It was produced by RISE Creative, who did an impressive job. The format is laid out like a magazine or book, with two pages displayed at a time. It also enables readers to add personal notes to the ebook. It would have been useful for readers to view the screen in a single page mode rather than having two pages per screenshot. Though making the report full screen makes it slightly easier to read.
The first half of the report contains an analysis of the state of supplier relationship management. It includes interviews with the academic Rob Cross, co-author of 'The MicroStress Effect' and Eric Wilhem, serial entrepreneur and supply chain expert.
The report hinges on a key survey data point that 97% of respondents said that suppliers should be part of the organisation's extended ecosystem. Yet, less than half have managed to achieve this. It is not black and white, though; most companies are on a journey, and the report looks at what that journey is and what the next steps might be for some organisations. It is a journey that the State of Flux has the expertise to assist with.
Alan Day, Chairman and Founder of State of Flux, summarised, saying, "Organisations are only as strong as their weakest supplier, but currently the overall standard of Supplier Management is poor. With AI tools now able to run the buying activities, Procurement's focus needs to evolve from 'buying things' to managing the extended enterprise. To do this they must improve Supplier Management focus and capabilities, essential for delighting customers, value creation, innovation harnessing, and risk mitigation."
What is in the report
The report reflects some of the most influential thinking on business networks. However, it does not quote Håkansson and Snehota (1995), who defined business networks as "A network has no clear boundaries, nor any centre or apex. It exists as an 'organization' in terms of a certain logic affecting the ordering of activities, resources and actors."
It is, however, a vision that the authors would like the reader to consider. The authors argue that "Procurement and supply chain teams must be acutely aware of what's involved in the work of their tier one supplier companies." Arguably, that is the first step, and they should have visibility of organisations across the supply chain. After all, nowadays, there is a responsibility for ethical and sustainable sourcing.
The report identifies the balance procurement teams must strike in building collaborative relationships whilst remaining objective and separate. It also highlights the benefits such relationships can bring and provides nine areas of improvement to consider (page 7).
Rob Cross examines the relationship between stress and results. Arguing that micro stresses can lead to a deterioration of the relationship and, subsequently, results. Organisations should have the means to identify, avoid or mitigate these issues. Like in a successful marriage, the communication should be open, honest and two-way.
Simon Chard from KY3P then presents the benefits that an effective risk management strategy can bring to supplier relationships. He argues that technology can help smooth the part for larger organisations to work with smaller ones, removing some of the onerous onboarding barriers that often exist. Andrew Butt, CEO of Enable, makes the case for a properly defined and executed rebate management programme.
The report then looks at how the power dynamic is shifting slightly, with organisations having to consider why they supply more carefully. Wilhelm makes a good point saying, "Customers are realising that they have to become a customer of choice. They have to be open to gain sharing and partnering, and allowing us [the suppliers] to provide an environment that's attractive to people. If they [customers] want to be in that upper quadrant, they're going to have to get away from that strict procurement mentality."
While this is not always the case, can your business afford to purchase from someone else? The report goes onto defining the benefits of this approach and highlights the actions organisations should consider taking, to achieve it.
In summary
The final few sections before the case study provide further insights and data points from the study. The authors posit that there are six pillars of SRM, Value; Engagement; Governance; People; Technology and Collaboration. The leaders, and fast followers are first and second in maturity for each category and most of the time are established and advanced in them. Followers are underdeveloped and sometimes developing across the board, showing that for many there is a lot of room for improvement. There is a summary of key statistics which looks across the six categories and the extended enterprise.
With data points including:
Extended Enterprise: 79% of companies believe that if suppliers are treated as part of an extended enterprise, it reduces risk
Value: believe improved risk management is one of their most crucial supplier management drivers for the next 12 months
Governance: 71% of companies are making use of third-party supplier due diligence services
Technology: 1 in 10 companies are not using a contract management technology solution
Collaboration: Only 19% of respondents report collaboration on sustainability goals and objectives
Of these, the last point is most surprising considering the Scope 3 emissions reporting requirements that many organisations face.
The report section concludes with a list of actions that organisations should consider. The first of these is about the extended enterprise:
"Certain business-wide goals and strategies simply cannot be achieved and delivered without suppliers. It's important that company leaders recognise this. Where key services are delivered straight to your customers by your suppliers it is essential that their behaviours, actions, and practices mirror that of your brand. To achieve this, you will need to develop a strategy to integrate and treat those suppliers as part of your extended enterprise."
Enterprise Times: What does this mean?
The above is just a snapshot, part of a rich resource of information and insights for supply chain and procurement teams. The report then goes into further depth around each of the categories. Drawing out insights from the research and offering actions for the readers to undertake to foster an extended enterprise. This piece of work is well worth a read, but consider it a book rather than a piece of research.