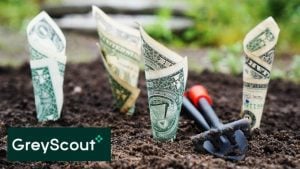 SaaS platform GreyScout has landed a £3 million seed investment. It brings the total raised by the platform to £3.9 million to date. The company has not given an indication of what this investment values it at. The investment round was jointly led by Act VC and Tribal, with participation from Furthr VC, Enterprise Ireland, and HBAN.
John Killian, CEO & Founder of GreyScout, comments, "We feel incredibly fortunate and grateful for the support we have received from our extremely talented and driven team, our customers, investors, and industry peers.
"With this funding, our aim is to expand our product, engineering, and platform teams in direct response to the surging demand for more automated brand protection solutions. Our objective is to empower brand owners with a cost effective, scalable, and user-friendly solution that ensures full control over online activity related to their brand."
Who are GreyScout, and how does it work?
GreyScout is a SaaS platform that focuses on brand protection. Its focus is on the online threat posed by grey market selling and counterfeiting. It continuously monitors all the major marketplaces worldwide for anyone offering products produced by its customers. It determines if the sellers are legitimate and, if so, if they have the right to sell in the country they are operating in.
If an infringement is detected, GreyScout gathers the evidence to ensure legal action can happen. It then follows that by issuing takedown notices. What is not clear is whether it issues notice to both the seller and the platform. It also alerts its customers to any infringements it has detected.
The next eight weeks see several major shopping events, including the end-of-year celebrations. It is a time when the amount of counterfeit and grey market goods on sales sites soars.
Importantly, this is not just about product sales. Counterfeit goods do severe brand damage to businesses and drive legitimate customers away. Grey market sales also damage brands when the sellers fail to support products post-sale. It also impacts the sales channel of legitimate partners by taking sales away from them.
Enterprise Times: What does this mean?
GreyScout has built an impressive client list. It includes the likes of Nestle, Bayer, Netgear, Mayborn and Dorel Maxi-Cosi, along with several others. With that list of customers, it is odd that it is still raising seed funding rather than a Series A funding that is usually targetted at growth. It clearly has a product that some of the market likes, perhaps it still needs to build out the platform before it feels  it is ready to focus on growth.
Another question is, how far can it go before it has to come back for more money? Fake goods are an industry worth €825 billion, according to the OECD. Can GreyScout grow organically to not need more investment? Will it find itself an acquisition target for its technology? It will be interesting to watch.