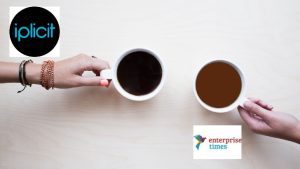 Enterprise Times recently spoke with Lyndon Stickley, co-founder and CEO of iplicit. My first question was to ask for the elevator pitch for iplicit.
"If you think about what Netflix did to Blockbuster, that's what we're doing to Sage. We are a generational disruptor. That's come about because a large part of the mid-market has been left orphaned by incumbent legacy on-premise providers that haven't given their customers an affordable, true cloud path. We have produced the latest in tech to provide that true cloud path for them."
How big is iplicit?
What is the state of iplicit at the moment in terms of its corporate statistics, such as customers, employees and growth?
"We launched in 2019 with eleven of us and we're now 70 staff. We're taking on about three staff a month. We're building to about 150. We would like to cap that because of the strategic plan to expand through partners. The majority of our business has been dealt with directly in the early years to prove the model, expanding through several verticals and channels.
"We're in our fourth year of doubling, and we will continue to do that through years five and six from what we can see with our planning. iplicit has a user base of nearly 700 SMEs and nonprofit organisations and is expanding rapidly. iplicit now has more than 10,000 current users in 72 countries and is on track to onboard 80,000 users by 2025. We will be launching in the US in 2025."
You've previously said you want to hit 60,000 daily users by 2025. It sounds like you probably didn't quite get to the 10,000 at the end of last year.
"We hit 10,000 in late spring. By this year's end, we will have 16-17,000 users. "
What's your vision for iplicit?
"Our vision is to be the go-to vendor internationally for the lower mid-market, and that's for powerful yet affordable true cloud accounting software."
Filling the gap
What do you mean by mid-market? ,
"The moment you step off of Xero and QuickBooks, you've got a void because you need multi-legal entity approval workflow and enhanced reporting consolidation. You need a bunch of things that only happen in the lower end with a load of App stacks around it, and you still don't get consolidated.
"Historically, for iplicit, you might be a 50-person business with an FD and serious accounting requirements, yet you haven't got serious accounting software.
"The next step was NetSuite, (Sage) Intacct and Dynamics. The reality is for those guys, what they consider mid-market, and I've had this validated from the vendors themselves, is 500 to 5,000 staff. At a push, they start to target over 250 staff and over 20 million in revenues.
"If you take the gap between the 30-40 person business and up to 500, it is significant. It's 90,500 entities in the UK, and we offer a NetSuite proposition at a fraction of the disruption or a fraction of the price. That's where we are insanely different from everyone else.
"Intacct, NetSuite and Dynamics will tell you 75 to 120 days implementation, iplicit it does it in 16. Then they don't really want to get out of bed for less than about 40-50k a year on the annuals. For iplicit, its typical average annual is 12k. That's why I think we're Netflix to Sage's Blockbuster because Sage Intacct cannot do what we do in our space."
On Product
What is the release cadence?
"Five times a year. It used to be quicker. We secured the head of engineering from AXA 15-18 months ago, who used to run a team of 600 developers. He's transformed our thinking and our approach to development to take us from a sort of Wild West Maverick innovators into a scalable global platform.
"We now have a very structured engineering department. His advice was, you're releasing too much, you're too enthusiastic. Five meaningful releases a year, which you can predict and stand on, is a much better way of going about it, and that's what we're now snapping to."
What's on the roadmap?
"The big thing in play right now is a partner portal. A partner portal that facilitates the ability for third parties to manage volumes of clients. This applies in two areas in particular. One is larger reseller partners who can start configuring, deploying and managing themselves—the business process outsourcing vertical.
"A large accounting firm may have 200 outsourcing clients, and they have 100 resources in that accounting practice managing those outsourced clients. They don't need all 100 of those resources to have access to all 200 of the customers.
"But at any one point, they want to be able to go in with a single sign-on to manage seven accounts. They don't want to keep going in and out of separate systems. So it's like an overlay of a portal to facilitate the management of a volume of our clients."
"We're looking at FP&A, budgeting and forecasting. In particular, we're looking at the areas where AI might be able to help with forecasting models. We're about to announce some automated payables functionality.
"There are several integrations in the wings as well. We're about to launch an IPaaS connection, connecting us with 1,000s of others. There are also some specific integrations with HR, payroll, safeguarding, where we've got strategic partnerships."
On 2023
What have you achieved this year?
"We've onboarded about another 38 staff so far and continue to expand. We launched at BETT in the education market, and that's been a phenomenal success from the get-go. We believe that our disruption in education will be absolutely material to every player in that market.
"We've already got four multi-academy trusts under our belt with a pipeline of about 25. We believe we'll have over 100 multi-academy trusts in 2024.
"We achieved ISO 27,001 this year and ISO 9,001. We've refactored the platform to enable global scaling and enhanced security. That was courtesy of all the new Microsoft tools and our head of engineering, who's got his feet under the table. We've built up a very comprehensive QA department that didn't exist two years ago, which is all part of the investment in infrastructure for scaling.
"I've rebutted my third acquisition approach. We've built a formidable sales and marketing team. In context, in January 22, I had one sales guy and one marketeer. In January 23, we had 13, I've now got 19, and I'm on my way to 28 by January 2024."
On funding
Are you going to look for funding in the next couple of years?
"We will go for meaningful funding at the end of 2024, which will facilitate the US expansion in 2025. I've had about 90-something approaches of funds that want to be involved. We might just do a private placing with a handful at the end of 24. I suspect we'll raise around the 25 million mark. We will then be able to effectively supercharge everything we're doing in the UK and expand into the US.
"Some of these firms have said to us, "we can give you money, why don't you just 10x your marketing spend now?" We're not expanding now because we are strengthening every department in the business and putting in the infrastructure so that when we do 10x it, the car can go 300 miles an hour, and the wheels won't fall off.
On expansion
Stickley continued, "We have been scoping the US market. There are 500,000 Sage sites in the US that are obviously very relevant to us. We've also built some really clever tools this year that automate the migration of Sage Access Pegasus, Xero, QuickBooks and other systems in Xero. So that when we do the data migration for the customer, we can do archiving and migration in a heartbeat that customers dread."
Why the US rather than Europe?
"Language, and also in Europe, other systems are doing a good job in that mid-market space. For us, it's English speaking. We've got a couple of sites already in Australia, but we're not hungry for Australia because of the time difference.
"Also, we have a £100 million a year market in the UK if we get 10%, and right now, we seem to be in the lead position with the lead tech and with the awards, with the momentum and with very little competition.
"We've been really lucky. I've built businesses six times before and built them to a decent size. There is no substitute for the inordinate amount of luck. We've turned up at the right time in the right place in a market where the likes of Sages orphaning 10s of 1000s of sites that need something more than Sage 50 or 200, yet can't afford Intacct."
The final destination
What is the end game, the exit plan?
"We think we've got something that can be built to a billion plus in value. We've got a very seasoned management team. I've been at it for 30 years. My Chairman's been at it for 50 years. He was the ex-chairman of Gresham House PLC. We've built together six meaningful businesses, not in the billions. We built businesses that we've sold for over 100 million.
"We've found ourselves where this is probably the mother lode of all opportunities we've ever seen. We're in this to be building a multi-100 million pound business. For us, it's probably the most exciting mountain we've ever scaled.
"I think that will end up with us taking independent funding. We expect to emerge as the missing piece of the trilogy between Xero and NetSuite in the midmarket space. I think we will be the straw that breaks the camel's back for Sage's accounting software proposition."
Routes to market for iplicit
What are your routes to market, and how will they evolve?
"We're working through three channels at the moment. We've got direct. I've got a small army of direct salespeople in verticals. I took a lead person from outsourcing from Mazars, who heads up our partner management for the accounting channel. We've now got several active accounting partners, and 2024 will be an explosive year for us. We'll see a seven to eightfold growth in our accounting partner generation in 2024.
"We've got reseller partners and we took someone on. We took a lead person from NetSuite partner channel management, and we've got him managing our reseller programme. We recently signed Eureka up in Scotland, and they handle Intacct and NetSuite.
"(Sales) right now are 95% on direct versus 5% channel. We expect it's going to be more like 65/35 in 2024. We want to be 35/65 by 2025. Because the exponential growth has to go through partners. Our US model will be entirely through partners. But there'll be the usual suspects we're seeing in the UK that  have also got US entities because we will primarily be in the US market through the accountant channel."
Challenges
What are your challenges?
"Right now, our challenges are exposure. We work hard for our opportunities, but we win 60 to 70% of all opportunities that go to demos. Any opportunities we don't win, the majority go to no decision. The reality right now is that we're the underdog. We don't have the prevalence in the marketplace.
"Also, exposure while we bootstrap because it's all our own money. Our budgets today are in the hundreds of 1,000s for marketing, not in the millions. That will change when we raise externally. I see a tipping point where the tide will turn. The inbounds will increase materially, and then outbound activity will need less.
"It's a continual challenge of building a global infrastructure in the service department and engineering. We're succeeding, but it's a lot of work and no quick fix. "
Is that technology or people?
"It's building out the technology and the platform's robustness. That's still about the breadth of capability and about building out our parallel development capabilities. As you get bigger teams, you've got to have different streams but keep it all together. There are streams for infrastructure, features, existing customer requirements, and for international geographies.
"One of the challenges in service is bringing on people quickly enough and having them trained enough to cope with the expansion."
On Priorities
What are your priorities?
"I've got four real edicts that I really focus on. I focus on next year's strategy and beyond because I have a COO. My COO does a lot of this year's execution. I'm spending all my time on the strategy side and primarily on 2024-25
"Existing staff is another. I am keeping everyone highly communicated with, buoyant, motivated and focused. I've got people who do that, but I'm also the staff cheerleader for tying it all together with the vision because I'm always doing it externally.
"Future staff, I spent much of my time on the front-end recruitment. I probably interview 10 times more than we recruit. So, for 15 positions, I'll go through 150 interviews. You could argue, why would I do that?
"I think it's essential because of the importance of keeping a very tight family vibe of highly charged, motivated individuals of a certain type. If we're going to be 500, I can't scale it; you can't do that. But getting us to 100 highly charged staff, I can manage that.
"Then the final one is investor relations and funding. I spend a lot of time explaining to the outside market what we're doing and where we're going. My December will be taken up. I will spend two weeks doing investor updates, which is strange because we don't have any investors. I know I'm doing all the spadework, so when we want to go out for £25 million fundraising, I know we'll have 20 funds arguing the toss over how they can get picked."
The book question
What's the latest book you read? What is your take out for business from it?
"I've just reread Crossing the Chasm by Geoffrey Moore (Amazon Aus, UK, US). I know it's relevant. I've encouraged my staff to read it because it's how you evolved from the early adopters and the innovators into the early majority, which is a journey we're going on. I've told all my staff that you can buy this book and only expense it once you can tell me what's in it, you have got to read it.
"If you've read it and liked it, you can buy "Inside the Tornado" and read that one.
"The one I've just bought, which was highly recommended, is the hard thing about hard things by Ben Horowitz. I'm told that's a good book for leaders to read. But I can't tell you if it's true."