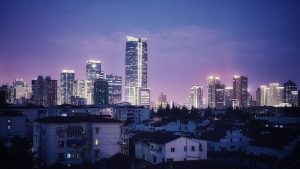 commercetools has announced the availability of commercetools Composable Commerce for China. commercetools is scaling the availability of its tools in mainland China and enabling enterprises to defragment their global infrastructure. The company says it streamlines the creation of digital commerce experiences to its customers.
"commercetools' availability through the AWS China Region will mark our first use of domestic data centres in the region. The first-ever cloud-native commerce solution to expand into China. This entry will help global enterprises optimise for the evolving and unique opportunities in this surging market," said commercetools CEO and co-founder Dirk Hoerig.
"Mainland China's vibrant digital commerce economy. Its rapidly growing consumer class makes it essential for enterprises to quickly adapt to shifts in demand and buying behaviour."
This new offering streamlines businesses' commerce infrastructure across all regions. Eliminating redundant maintenance delivers unrestricted feature parity across regions, and complies with local tech, data security, and personal information standards.
Customers with access to commercetools Composable Commerce for China will have the same performance, agility, and competitive advantages that commercetools provides in other markets.
Helping retailers serve customers
Ravi Bagal, General Manager Solutions and Business Development Retail & CPG, AWS, says, "Demand for commercetools on AWS is soaring. So we are thrilled that commercetools is now available in China. As a fellow member of the MACH Alliance and a new addition to the AWS Retail Competency partner programme, commercetools shares our mission. Helping retailers better serve their customers with modern architecture and composable commerce."
commercetools' partner community includes a broad selection of system integrators (SI) with expansive expertise in the Chinese technology ecosystem. This enables a smooth re-platforming as well as a new total commerce setup. Due to commercetools' modern, flexible architecture, the new extension is both ideal for hosting a Chinese website and connecting to relevant regional channels such as WeChat, Tmall, Taobao, and JD.
"Building on AWS with the local AWS Region, we are extending the value of commercetools Composable Commerce. This move empowers customers with operations in China to have a single global commerce backbone. This helps our customers save on operating costs and resources. Eliminates the need for a parallel architecture to run in China," said Dirk Weckerlei, commercetools VP of Business Development, China and Japan.
Modernising commerce using MACH
The company suggests brands modernising their commerce using MACH-based architecture with commercetools on AWS can implement modern technologies faster. At the same time they can concentrate on their core businesses. This is because they can move away from legacy infrastructures that can prevent brands from scaling online capacity at speed. Instantly benefit from auto-scaling, improved online performance, and lower IT total costs of ownership.
"We work with commercetools and AWS because they are excellent at what they do. commercetools being the best composable commerce on the market. AWS's value-added services including AWS Lambda and Amazon API Gateway to build architecture capabilities," said Franck Schmidlin, Senior Solutions Architect at The Very Group.
Enterprise Times: What this means for business.
Some analysts predict China will become the largest eCommerce market worldwide in a few years. As a result, the demand for composable commerce is surging in recent years. Hence, the expansion is the natural next step for commercetools.
The company is widely acknowledged as one of the founders of the headless commerce concept. It remains one of the industry-leading composable commerce platforms enabling brands to adapt and lead evolutions in digital commerce.
This expansion into China will be particularly welcomed by enterprises operating in times of global market instability. New and existing multi-region customers can now scale global digital commerce experiences inclusive of mainland China. Previously, they had to operate separate systems across the Great China Wall. This development will enable them to streamline commerce solutions adoption more effectively.