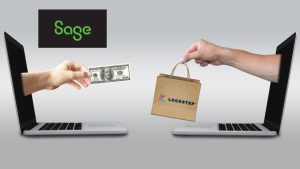 Sage has announced the strategic acquisition of Lockstep, the AR and AP automation vendor. Neither party disclosed the terms of the deal which is expected to end in September. Founded in 2019 by Matt Shanahan and Peter Horadan in Seattle, LockStep has a platform that helps to connect accounting teams for invoices and payments.
Its solution automates workflows between teams using its inbox solution that offers the promise of connected accounting. In total, the company connects 26,000 organisations leveraging over 40 integrations. It will now become part of the Sage Digital Network, though this does not mean that it will lose its independence entirely.
While the terms were not disclosed, Lockstep will have cost Sage several million. The company has raised over $12.5 million since its founding. These include a two-part Series A round that raised $10 million in February 2021 in a round led by Point72 Ventures and £2.5 million in August last year from American Express Ventures.
Employees, lock, stock and barrel to join Sage
The company has used the funding to grow its team to 130 employees, all of whom will transition to Sage. Enterprise Times asked whether the leadership team would join Sage and what role Peter Horadan would have.
Sage replied: "As part of the transaction, Lockstep's entire employee base, including all key management leaders, will join Sage to help drive the current business and support further development of Sage's digital network. Peter Horadan will report into Sage CTO Aaron Harris and continue to lead the Lockstep team."
Peter Horadan, Chief Executive Officer of Lockstep, commented: "Over the years it has become abundantly clear that Lockstep and Sage have the same vision for the future of the industry.
"Since inception, our mission has been to improve and transform the way companies do business with one another. Together with Sage, we look forward to accelerating the development of connected accounting which is imperative for accountants, finance teams and the companies they serve."
What does this mean for the Lockstep product?
Lockstep currently integrates to various accounting solutions using an open API. These include Acumatica, Epicor, Infor, Microsoft Dynamics 365, Oracle NetSuite, QuickBooks, Sage, SAP, and SYSPRO. Enterprise Times asked Sage whether it would remain a separate brand and continue to support and extend these integrations.
Sage responded, "Sage will continue to nurture and support Lockstep's >40 accounting solution integrations today for both cloud and on-premise accounting solutions, and we'd expect that number to grow over time."
The Lockstep website reveals that it already integrates with Sage Intacct. What is the roadmap for integrating other Sage solutions?
Sage replied: "Lockstep currently has integrations with a number of Sage's US products, including Sage Intacct and X3 in the US, among others, and we will be working through further details post close of the deal, which we expect to take place by the end of September."
Sage has another automation solution, AutoEntry, which was acquired in 2019. There is a cross-over between the two, with AutoEntry automating data entry. Enterprise Times asked how Lockstep will fit with AutoEntry in the Sage strategy.
Sage replied: "Lockstep and AutoEntry both aim to serve similar customer bases, SMBs. Lockstep is specifically focused on AR and AP automation as well as supporting the building of the digital network. Both Lockstep and AutoEntry will be part of Sage's digital network strategy and will be connected to the network and will enrich the ecosystem with data that automates and facilitates accounting workflows between companies."
Enterprise Times: What does this mean
As the importance of business networks grows, Lockstep has proven that it is possible to connect SME organisations no matter what platform they use internally.
Aaron Harris, Chief Technology Officer of Sage, commented: "The acquisition of Lockstep represents an important milestone in our growth strategy. Its complementary portfolio of products, resources, and know-how accelerates our ambition to be the trusted network for SMBs.
"Working together, we will continue to knock down the barriers that limit CFOs and accounting teams by streamlining their workflows, improving productivity and efficiency, and enabling them to focus on more valuable, human work."
This acquisition extends the Sage Digital Network outside its immediate ecosystem and creates further opportunities for itself and Lockstep. For Lockstep, it provides access to more international markets with people and expertise. It also opens access to the Sage development teams, especially around AI. There are potential synergies with Sage Banking and other products with the Sage Digital Network.
For Sage, it provides a solution that enables it to access a wider set of organisations and build a business network that others could find hard to rival if it accelerates its growth.