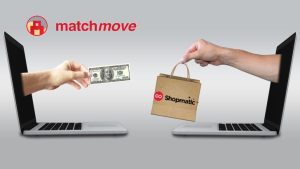 MatchMove has acquired Shopmatic for US$200 million. It creates a major force combining the embedded finance vendor with a leading eCommerce organisation. Combining the two Singapore headquartered companies creates a global company that can now offer end to end digitisation for organisations worldwide.
The deal is focused on an APAC eCommerce market. Its revenues are expected to double to US$2 trillion by 2025, alongside the embedded finance revenues of US$140.8 billion, according to a Euromonitor report. The move sees MatchMove hoping to grab a greater share of both markets.
MatchMove is targeting revenues of $400 million and expects to reach 4 million customers across 15 countries by 2026. This seems ambitious with Shopmatic currently having around 1 million customers and MatchMove operating in 6 countries.
It aims to achieve this by offering MatchMove banking and finance solutions within the Shopmatic platform.
Shailesh Naik, CEO, MatchMove, said: "Demand for embedded finance and e-commerce is growing extremely fast. Shopmatic has built an amazing business and team with proven eCommerce tools which support SMEs to trade online. The acquisition provides a large user base to deploy our financial services, reaching a huge sector of the economy at scale.
"Enterprise customers can now completely digitalise their supply chains – providing services like supply chain lending and vendor payments through a single platform to Shopmatic's ecosystem of SME customers."
Shopmatic remains
Shopmatic will retain its brand. It will become part of a growing MatchMove brand. The Shopmatic CEO, Anurag Avula, will continue to lead the Shopmatic business.
Anurag Avula, CEO of Shopmatic, said: "This is about driving the digital economy by combining embedded finance with eCommerce. We are building a scalable, business-friendly platform-as-a-service with intelligent tools and data, so every business has the ability to create amazing products to address their markets and while addressing the challenges of moving digital money securely.
"In addition to their existing e-commerce services, Shopmatic merchants will now be able to access embedded banking-as-a-service through MatchMove, enabling their buyers to make and collect payments seamlessly and at a lower cost."
Matchmove
This acquisition is not the last that MatchMove intends. It signalled that further acquisitions are likely to follow. Matchmove intends to create an end-to-end service for companies in South East Asia.
What is next, though? Will it look to acquire supply chain software, shipping, inventory management, or marketing? With Shopmatic, it has gained access to chat social media, a webstore and integration to the world's largest e-marketplaces.
This first step was presumably financed partly by the $100 million that MatchMove raised in June 2021 in a series D funding round led by Nityo Infotech Services. MAS approved that deal in December, but it only received $20 million in cash. The remainder was for services to help expand the Matchmove presence beyond South East Asia to Europe and the US. It will be interesting to see whether that expansion now includes Shopmatic, as it wasn't mentioned in the press release.
Matchmove will need to obtain the relevant banking approval to operate in other regions. These two deals create the potential to catapult Matchmove (including Shopmatic) quickly into a significant global player.
Enterprise Times: What does this mean
The integration between these two platforms should not take long. Matchmove already offers customisable APIs to enterprise customers. It allows them to embed digital wallets and support for physical and virtual cards from Mastercard, Visa and WePay into their technology stack. Shopmatic can leverage the same APIs for similar modular services. When these new services will be available to Shopmatic customers isn't clear.
Offering these services does not mean widespread adoption, with many customers already having solutions in place. However, it may be more about what it can offer to attract new customers to the platform. However, those new customers are out there.
Author of the Euromonitor report, Quan Yao Peh, research analyst at Euromonitor International, commented: "Post-pandemic, more business is going online with a corresponding increase in the number of customers using online payments instead of cash. If you are selling online, you increasingly need integrated financial services capabilities as well as an eCommerce store.
"Both SME and enterprise firms are currently forced to rely on a complex multitude of providers and services to deliver their online business. Enterprise firms are unable to offer basic financial products digitally to their customers without relying on banks and other traditional finance firms, which have many legacy systems and processes which make speed to market a big challenge.
"There is a significant appetite and opportunity here for digital transformation and bringing together embedded finance and eCommerce makes a lot of sense."