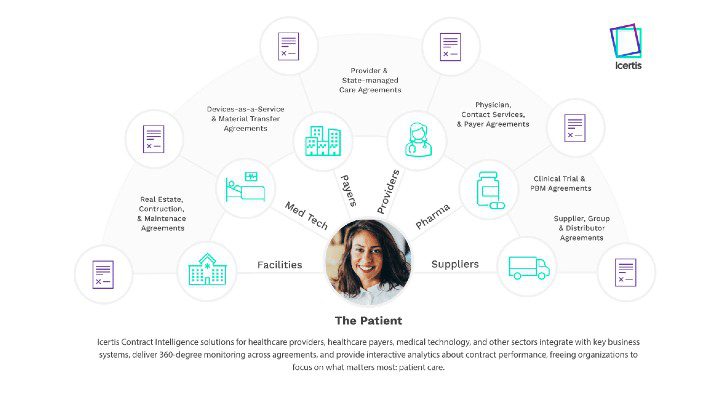 Icertis has added another industry vertical solution to its Contract Intelligence platform. The new solution is focused on Healthcare providers and was launched at the HIMSS Global Health Conference in Orlando.
The Icertis Contract Intelligence for Healthcare Providers joined a growing list of industry solutions first launched by Icertis last October. That list includes the Icertis Contract Intelligence for Healthcare Payers solution. The intention, no doubt to strengthen its presence in the Healthcare market.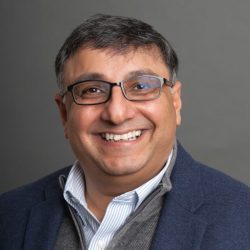 Nitin Khorana, Senior Vice President, Healthcare and Life Sciences, Icertis, commented: "Healthcare providers are navigating unprecedented challenges across the board, including increased industry regulations, changing business models, aging systems, and limited staffing, to name a few. Our solution is purpose-built to help them streamline and improve their contracting process.
"ICI for Healthcare Providers delivers a holistic view of the obligations and risks across all managed care and network contracts, accelerating the process and creating visibility for post-execution management. This results in significant time and cost savings, reduced risk, and direct impact to the bottom line."
Why Healthcare?
Enterprise Times posed some questions about the announcement to Jennifer Conner, Senior Director of Pharma/Healthcare Industry Solutions, Icertis. Why has Icertis targeted Healthcare? Conneranswered: "Today's healthcare providers face many challenges including changing care models focused on outcomes, heightened regulations, and evolving market conditions to name a few.
"Healthcare providers have also become more reliant on their networks of payers, suppliers, contracted services, and IT services – to deliver quality patient care. These networks are built on contracts. With healthcare providers set to see an enormous change in the next decade, those who have the data and agility to quickly understand and respond to new opportunities and risks will stay in front. Contracts are a critical component of this.
"Icertis recognized the need for a governance layer in contracting amid market disruptions – and that challenges and opportunities vary greatly by industry. To meet these challenges, provider organizations must efficiently manage diverse contract management processes – procurement, managed care contracts, workforce contracts, distribution, etc. – all while meeting the growing requirements for transparency and interoperability for data sharing."
The challenges faced
Enterprise Times asked Conner what challenges Healthcare providers face. She answered: "Common contract challenges for healthcare providers include complex, fragmented business models, compliance challenges, weak supplier management, lack of automation, and lack of performance monitoring on procurement contracts.
"Healthcare faces a huge compliance burden and contracts have become a necessary part of that. However, as they do not directly contribute to delivering Healthcare and help patients directly the contract process needs to be as efficient as possible."
The new solution can manage every contract that the provider has, but Icertis has optimised for three of the most common. ICI extracts the relevant data points from both structured and unstructured documents and uses the to automate the contracting process. The system also analyses the data to provide insights, anomalies and errors that Healthcare providers can act on swiftly.
For Payer agreements, understand requirements clauses, fee schedule library and percentage payment structure, obligations with fulfilment tracking, risks with type and scoring, plus incentives that may be tied to the agreement. The workflow embedded within the solution enables providers to work efficiently.
Icertis has streamlined the end to end process for supplier agreements. It manages the flow from procurement to execution to post-execution management. Healthcare providers can now identify gaps and variances across different SKUs. In addition, the system will surface duplicates and other anomalies. With full version control, providers can ensure that the contracting process is seamless and efficient.
There is support for the different contract services agreements providers use, including HVAC, Linen, Imaging, Reference Lab, Temp Staffing, and Telemedicine. The solution supports the different types of contracts each requires and the various payment types. Providers can compare contracts across regions or locations to ensure they get the best arrangement for each location.
The benefits
Icertis laid out five benefits the new solution offers.
Instils AI into the contract process
ICI accelerates and improves contract negotiations with AI. It will highlight deviations from similar contracts to maximize value on new agreements.
Turns contract information into data with value
ICI transforms key data, such as fee schedules, into structured data. With that data, users can quickly analyze the impact of different contract scenarios during negotiations and ongoing compliance after signing.
Automate workflow
ICI automates workflow-enabled fulfilment tracking and audit alerting to provide confidence that an organization is covered from a compliance and risk perspective
Enterprise Times asked Conner to explain this further; she replied: "Icertis has automated the audit workflow to ensure providers are covered for any documentation, attestations, or updates required throughout the terms of their agreements, including regulatory aspects. By connecting ICI to key business systems, providers can confirm obligations that occurred. They will also be automatically alerted based on the agreement parameters.
"A workflow automation example within the Healthcare vertical is an assignment to a team and/or team member of an obligation/deliverable that has the potential to be audited regularly for compliance by external or internal entities. ICI for Healthcare Providers automatically sends an alert to kick off review and approval processes. It also sends an update, with workflow timestamps during and upon completion, accessible later to an auditor."
Bulk updates to contracts
Once contracts are ingested, ICI can batch update clauses with amendments to adhere to regulatory changes of other updates. ICI will highlight the impact of any required change. It can also automate the process of both updating and notifying relevant parties.
Integrations
ICI offers integrations to applications that providers use including ERP, AP, CRM, timekeeping, and supply chain solutions. The integrations use APIs and already support SAP, Oracle, Workday, Microsoft and Salesforce applications.
Enterprise Times: What does this mean
Icertis Contract Intelligence for Healthcare Providers is available to healthcare providers in the US, Canada, Europe, Australia and New Zealand. ICI is already used by healthcare providers across the world. With this addition, existing customers can improve their deployments. New customers will decrease the time to value.
Icertis will no doubt add more industry verticals over the next few months as it aims to solve not just Contract Lifecycle Management for those industries. ICI extracts the data from contracts so that organisations can maximise value from the products or services offered. It also allows them to derive additional value beyond the contract agreement from the data