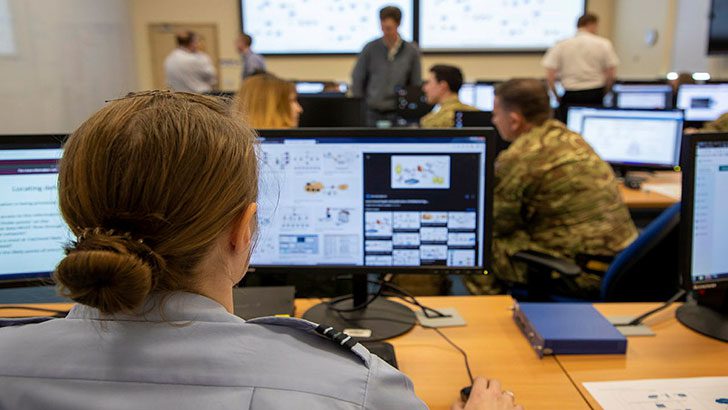 Immersive Labs has signed a deal with the British Army to enhance the human cyber capabilities of military personnel. The deal covers over 100,000 people from Staff Offices to technical specialists. It will support everyone from serving personnel to reservists and civilians attached to the Army. They will all get access to the Immersive Labs platform to update and improve their skills.
Kristina Evans, Head of Cyber and Security at the Army, said: "This is an exciting opportunity for the British Army to raise the level of our people's cyber skills across the board. Not only does it allow those with a grounding in technical capabilities to improve, but it also allows us to uncover a whole new class of cyber talent.  
"The threats we face change day by day and can come from any vector, for this reason, cyber security should not just be limited to backroom technical teams. The modern operating environment, at home and overseas, requires strength in depth, with people across the Army providing a defensive cyber capability, which the work with Immersive Labs fully supports."
How will Immersive Labs fit into Army training?
According to the press release, this deal will enable: "mapping a real-time view of the abilities of personnel against industry frameworks such as MITRE ATT&CK." Doing so will show where the gaps are in capabilities at the individual, unit, and Army level.
There is also the potential here to improve the selection of soldiers and officers for new roles. The Army is currently pivoting to a more offensive stance with cybersecurity. For that, it needs a lot more trained people and finding them can be difficult. The Army typically trains based on the role of individual units. This approach should make finding the hidden talent in those units that are not dedicated to cyber warfare easier.
Traditional military training relies on troops working as a large cohort. The emphasis here, however, is on self-paced training. It will allow soldiers to choose what to study and when to study it. But how will this will fit into existing training? For example, will there be changes to existing training courses to include Immersive Labs modules? Will the labs be used to validate training and skills?
How many will actually undergo the training? Technology poses multiple threats to the military and is used as an offensive weapon both by allies and enemies. Also, many personnel have their own technology. This latter has the potential to leak information. For example, that leakage can come from fitness devices where people share information on runs or their fitness schedules.
Evans statement seems to suggest this deal will touch everyone in the Army. That is good news. It means that basic training will finally contain some cybersecurity training as basic life skills. It is a difficult lesson for many in the Armed Forces to adjust to once they leave civilian life.
Enterprise Times: What does this mean?
Unlike traditional military training, cybersecurity is not about shouting, repetition and endless drills. It requires far more finesse, and one size certainly does not fit all. Military training is still focused on the cohort and not the individual, even when it comes to trade training.
This deal provides a way to change that. More importantly, it allows a soldier to change their role and even unit in the Army. An infantry soldier with cyber awareness could find themselves moved to a different role. Such a move will help provide a new skills regime and uncover those who would otherwise have been overlooked.
Surprisingly, Immersive is not announcing a deal with MoD for all branches of the UK Armed Forces. That's a surprise. The Royal Air Force and Royal Navy have as much need for cyber skills as the British Army.
There is also a significant post-service opportunity here. Immersive Labs already works with TechVets who help veterans and those leaving the UK Armed Forces to prepare for civilian life in the technology industry. Many of those end up in cybersecurity. With this move, Immersive can provide continuity of training for those individuals.
It means that civilian companies that employ veterans will get a well-trained and highly skilled member of staff. Importantly, they will also be used to using the Immersive platform and self-training. It provides another part of the solution to the lack of people currently working in the industry.