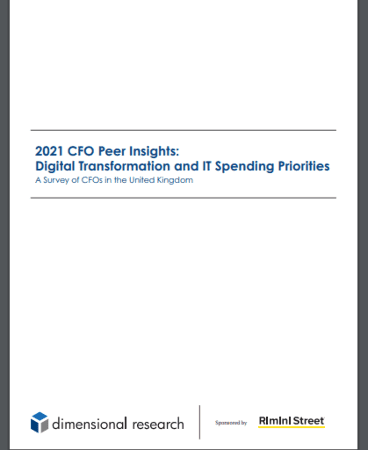 Rimini Street, via research undertaken by Dimensional Research, has sponsored a report entitled '2021 CFO Peer Insights: Digital Transformation and IT Spending Priorities'. This draws on research with some 100 CFOs (or equivalent) in the UK. (There is also a parallel global version.)
"This report highlights the heightened importance of digital transformation for CFOs but reinforces that IT investments must have clear business value to receive CFO support. It's not surprising that CFOs want to cancel IT projects that lack a strong ROI, like many software vendor-forced ERP reimplementations and migrations, given that resources can be liberated for new technology investments that accelerate achieving the businesses digital goals," said Seth A. Ravin, Rimini Street CEO.
The Rimini Street report objectives and primary results
In December 2020, an online survey was sent to independent sources of finance executives living in the UK. 114 qualified individuals completed the survey. All participants were a CFO or equivalent senior financial executive in a business with at least US$200M turnover. Within this, participants represented a wide range of company sizes and industries from both the public and private sectors.
The report examines digital transformation and IT spending trends – from the CFO's perspective. It endeavours to answer the following questions:
what do modern CFOs think of digital transformation?
how do CFOs prioritise IT investments overall?
how do CFOs think about RoI and how do they measure their returns on technology investments?
which IT initiatives are considered most valuable and which ones are deemed a waste of time and resources?
how has the CFO-CIO relationship evolved, and what are the key factors for a strong CFO-CIO partnership?
Among the findings, digital transformation is a top CFO priority:
76% report digital transformation is a top-five corporate priority
60% say digital transformation is key to their company's success
41% state increased technology spending is driven by new digital transformation projects
96% agree technology investments are vital to recovering from COVID-19
79% say COVID-19 has increased their digital transformation investment
The importance of IT to the CFO
IT spending priorities must also tie to business value with CFOs preferring IT projects which
generate revenue (35%)
optimise existing investments (34%)
improve processes and employee efficiency (34%).
Put another way:
64% of respondents refuse to waste precious dollars on IT investments that don't "move the needle" for their business
67% want to cut spending on non-essential IT investments
75% of CFOs will fund digital transformation initiatives with strong RoI.
A strong CFO-CIO partnerships benefits a business:
92% agree that a successful CFO will have a good relationship with his or her CIO counterpart
74% of CFOs believed they had improved their relationship with their CIO in 2020
only 26% (of CFOs) reported a worse relationship with their CIO – citing CIO plans with no demonstrated RoI (32%), little urgency (32%) or a lack of proactive engagement (32%) as the top three reasons.
The importance of business value
It is no great surprise to read that CFOs "expect technology investments to have clear business value and strong RoI". This throws up an inherent, practical conflict or contradiction. While CFOs have long been the creators of cost structures and spending, the task of controlling costs has become increasingly complicated.
At the same time funding strategic IT priorities is difficult, especially in businesses where rising costs outpace revenues. In such circumstances it challenges management to sustain growth and profitability when legacy cost items once seen as necessary (for example, managing data centres, maintaining software licences and completing expensive and disruptive vender-directed upgrades) are under ever more focused scrutiny.
As the report says: "one of the CFO's critical considerations for IT spending is prioritising those projects that yield positive business outcomes". 64% of CFOs agree they cannot afford to waste money on IT projects that do not make a difference. Business value rules with CFOs expecting their CIO counterparts to present technology investment proposals which demonstrate both that business value and strong ROI.
When asked about what types of IT projects CFOs personally want to see more of, these investments were prominent:
revenue generating technology initiatives (35%)
optimising existing technology investments (34%)
process improvements and employee efficiency (34%).
The CFO/CIO relationship
The report also examines how the CFO/CIO relationship is evolving. As it puts it "Technology is expanding the roles that CFOs and CIOs play in an organisation and calling for closer collaboration between IT and finance. More than just handling the financials, today's CFOs must have a solid understanding of customers and markets and technology's role in connecting with them. And, if both roles collaborate and ask meaningful questions, they can be a very productive team. CFOs couldn't agree more, with 92% believing that a great relationship with their CIO counterpart is key to success."
Yet not all is sweetness and success. "While the CFO-CIO relationship is interconnected, sometimes it can become divided as both may speak different 'languages' about the same topic.
"For example, CIOs sometimes struggle to communicate IT project RoI, business priorities, and costs because they focus more on the technological know-how to get the job done. Conversely, CFOs expect their CIOs to present a clear business case but don't always understand the technology to make the right financial decisions."
According to the reported research, 92% of CFOs say that CIOs need to learn more about the business now than two years ago. They also must take ownership of their part in the relationship, with 94% (of CIO's) agreeing that CFOs need to be more tech savvy". No great surprises there.
Enterprise Times: what does this mean
This 2021 Rimini Street/Dimensional Research report provides substance and confirmation to what many would suggest. That CFOs should prefer to engage with CIOs – before plans finalise – seems like common sense (at least to Enterprise Times).
As the report describes, digital transformation is high on the priority list of most CFOs. This means:
a strong CFO-CIO partnership is a necessity
financial decision makers must learn the language of technology
CIOs must learn more of the CFO mindset.
"In a broad context, whether it is (about) digital transformation or infrastructure, this means taking a critical look at operational expenses and treating every line item in the IT budget as one that should demonstrate value. Easy to say; not so easy to do."