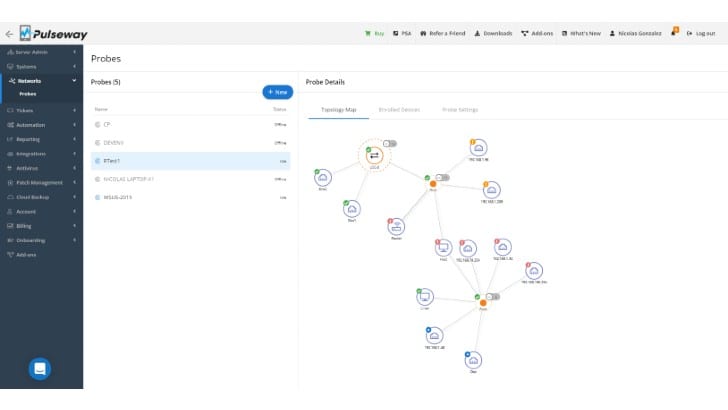 Pulseway has announced the availability of a network monitoring feature. It will allow MSPs and internal IT departments to actively monitor their clients network and devices within the RMM application. As usual for Pulseway, the application is mobile-enabled for both an Android and iOS app from both a browser-based solution and mobile devices.
Once deployed, the new network monitoring tool can scan corporate networks for existing devices. As with most network monitoring tools, the administrator can then determine whether they want to enrol the devices onto the platform. Ping, port, ICMP and SNMP checks are supported for each device. From the network tool engineers can also remotely access devices using SSH, telnet or HTTP to manage them in the case of an alert.
Once devices are determined, the tool creates a graphical rendition of the network with the connections between devices such as switches and routers.
If a device sends an SNMP alert, an administrator can configure the Pulseway workflow engine to action events against specific alerts, sending active alerts to engineers and/or set up remediating actions that might resolve the alert without an engineer to do anything.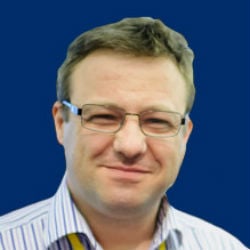 Marius Mihalec, Founder and CEO of Pulseway commented: "In today's remote work world, it is even more crucial for MSPs and internal IT departments to have a complete view of every device connected to their networks. Pulseway Network Monitoring makes it easy for IT professionals to manage all devices remotely and identify potential network issues within the easy-to-use Pulseway RMM interface."
The tool will support any device with a fixed IP address, including routers, switches, firewalls, load balancers, wireless LAN controllers, servers, VMs, printers, storage devices, sensors.
Pulseway reveals more
Enterprise Times asked Pulseway to give more details about the new feature. As MSPs support multiple networks, how does the network monitoring tool deliver against this challenge?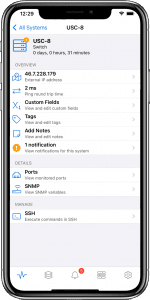 Pulseway answered: "Network Monitoring is tightly integrated with RMM and the set up is the same. An MSP currently configures the tool to monitor the networks it wants to monitor and agents are then deployed across those networks to discover all servers & workstations.
"With network monitoring, the user selects an agent to become a network monitoring probe. Any agent can be used, but we recommend to use one attached to a central server as it will have visibility to more of the network. This probe then discovers all devices that are visible to that device and generates the topology map. The MSP can therefore select strategic probes on each of the networks they are managing."
Network monitoring is available as an add-on for Pulseway team customers. It is fully integrated with the Pulseway Web application. How much does it cost though? ET asked Pulseway that question, the replied
"It is charged as $99 per month. This price gives you all the features of network monitoring such as automatic discovery, topology map etc, plus it includes 20 monitored devices. Additional devices are charged at the tiered pricing as if an additional workstation had been added. You only have to pay for devices you explicitly choose to monitor – not everything the probe discovers will be charged for."
Pulseway also has a launch offer for customers that attend a webinar about the new tool on 28th October. To register for the event click here.
Enhancements to third party patching
Pulseway also announced that it has continued to add support for new applications. It has added nine more in recent weeks. The nine are:
.NET Core ASP Runtime, Runtime and SDK
8×8
Apache Tomcat
Docker Desktop
HxD
Opera
Rufus
Enterprise Times: What does this mean
Pulseway continues to update and improve its RMM solution. This latest update will enable MSPs to consolidate their tools further. The topology map will quickly enable technicians to identify faults and their impact occurring on a network. The combination of the workflow engine and the support of SNMP alerts is powerful. However, the administration and set up time can be considerable.
It will be interesting to see how Pulseway extends this solution further. Will Pulseway extend its patch management support to switches and other network devices as well? Will they add features such as network traffic analysis to the new solution? At nearly $1,200 per year, this also seems quite an expensive add-on for network monitoring, especially for IT departments. For MSPs managing multiple networks this could provide a very interesting ROI through efficiency increases.