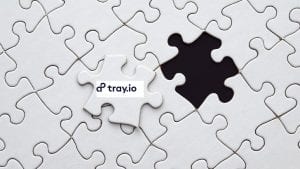 Tray.io has unveiled the latest release of the Tray connectivity platform. It has also made a new enterprise connector solution and a new on-premise agent available in beta. The Tray Connector SDK enables organisations to create connectors to both integrate and automate data and workflows using low code. The new platform release includes updated connectors to dozens of enterprise applications.
Rich Waldron, CEO and co-founder of Tray.io, commented: "The true competitive advantage for enterprises today is the ability to establish, execute on, and continually evolve their unique business processes. Our latest technical achievements provide the exact integrations and automated workflows that enterprises need to increase agility and drive innovation.
"Freed from connectivity restrictions, technical debt, and the lack of internal resources, enterprises using the Tray Platform can focus on what matters most to the business. We're continuing to double-down on our investment in the Tray Platform to ensure any builder can access our cutting-edge automation and unlimited scalability."
New and enhanced connectors
Organisations both build and inherit hybrid software architectures often with limited interoperability or integration. The Tray.io iPaaS solution aims to solve those challenges through its platform and connectors. This latest release sees several connectors introduced or improved including:
Ultipro
Twilio
Workday Adaptive Planning (Adaptive Insights)
Anaplan
Datadog
Snowflake
Microsoft Power BI
Oracle Bronto
Oracle Eloqua
Oracle Responsys
More than a dozen Amazon Web Services (AWS) applications.
Tray.io has also completely rebuilt the Oracle NetSuite connector using a REST API. This latest release includes the ability to create new operations that do not exist in the standard connector. Using the NetSuite API documentation, if the correct endpoint terminology is used, a new instruction such as a Get request can be created to receive records. It is also possible to add workflow operations to the connector. This will enable customers to meet a wide variety of use cases for the leading integrated cloud business software solutions. It makes integrations faster and more comprehensive.
There is also a new Python connector, enabling data scientists and others to leverage python scripts within their workflows natively.
Other new features
With this release, Tray.io also makes available a new on-premises agent. This allows organisations to connect on-premises solutions to cloud-based solutions. For many customers, this is critical. Organisations often have specialist on-premises solutions that are unavailable as cloud software or they need an interim solution, perhaps as part of their migration to cloud software.
The Tray.io platform also enables the streaming of workflow logs to third-party solutions such as Datadog, Sentry, Redshift, New Relic or Kibana. This allows those tool to provide dashboards of information in real-time to highlight issues in workflows and integration points across the software architecture.
Connector SDK
Tray.io also made available the beta version of a new Connector SDK. This new feature enables developers to build and deploy their custom connectors within the Tray platform using low code. This is especially important for organisations that have developed their own software, either for historical reasons or for a competitive advantage.
With this new feature, organisations can connect any solution, whether it is cloud-based or on-premises. It removes the need for old fashioned import and export processes.
Enterprise Times:  What does this mean
With these releases, Tray.io is reaching a new level of maturity for its IPaaS solution. Not only has it enhanced the most commonly used connectors such as NetSuite it has also introduce the ability to connect to any software. These updates will allow enterprises to connect and create better workflows between their applications. This helps to ensure data integrity between systems and makes interconnection points between functional systems operationally effective.
With the new SDK in place will Tray.io also create a marketplace enabling organisations to create and share new connectors? For those interested in the new features, it is possible to sign up for a demonstration.