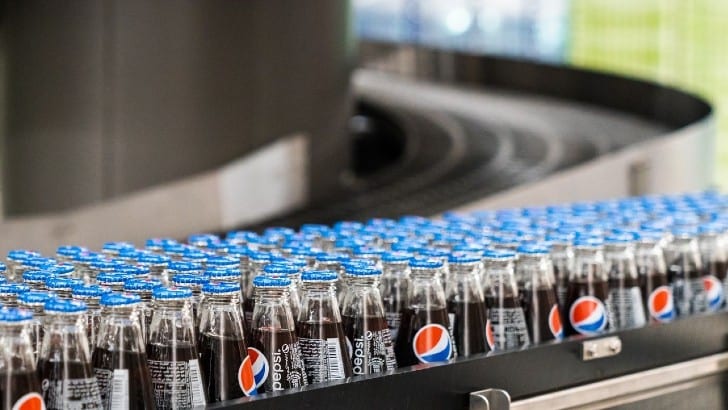 In a double announcement, Infor revealed that SNS has successfully installed its WMS solution at MenaBev. SNS also announced that  Algosaibi Services has selected Infor WMS 11.3.1.
SNS has a long history working with the Pepsi ecosystem. In 2009 it worked with United Beverage to complete a supply chain assessment study. United Beverage is the franchise bottler company for Pepsi International in Kuwait. SNS is a certified Infor partner and global supply chain consultancy. It has implemented more than 200 Infor WMS projects and is headquartered in Dubai.
MenaBev takes full control of warehouse
Infor WMS was installed at the 300,000-square-meter bottling facility in Jeddah. It is one of the worlds largest bottling plants, and the new solution will help manage and automate inventory processes across the location. The plant has eight bottling lines and thousands of transactions between different systems. The operation is also state of the art with LGVs (laser-guided vehicles) managing raw materials putaway and replenishment to the lines.
There is also a High Bay AS/RS (automated storage and retrieval system) with capacity for more than 36,000 pallets. The whole process is automated with finished goods transported from production lines via elevators and monorail. An automated truck loading system then places the good onto outbound vehicles.
SNS has a long history of implementing WMS solutions in a complex manufacturing environment. While this was a greenfield site, Infor WMS was integrated with seven other solutions, including:
ERP solutions, including Infor LN
Manufacturing Execution System (MES)
A Laboratory Information Management System (LIMS)
Original equipment manufacturer (OEM) systems, these provide real-time integration and featuring monitoring screens to identify any integration issues.
Tamer Salem, MES and automation manager at MenaBev commented: "We can receive raw materials using supplier multi-field barcodes, trigger replenishment to production based on live consumption and load pallets onto trucks without a single paper printed.
"Thanks to the new system, we have visibility over all our warehouse processes. We've worked very closely with the SNS team to ensure we implement the best solution for our extensive operation. We pride ourselves on our commitment to using state-of-the-art technology in manufacturing and sales & distribution, and this implementation certainly fits that brief. We look forward to this next chapter in our business, readily embracing the benefits this new way of working will bring." 
Algosaibi
Algosaibi is an industrial catering specialist and part of the Khalifa Algosaibi Investment Group. It provides industrial and commercial catering services to large public and private sector clients in the Middle East. The project will see SNS will integrate Infor WMS with the Algosaibi ORION ERP platform. The company has 3500 employees and provides around 4.5 million meals every month across 150 sites in the Kingdom.
Algosaibi has its own complex requirements. It handles different ingredients for its products which need storing in different temperature-controlled areas of its warehouse. Algosaibi stocks cleaning and disposable items as well as food ingredients. Requirements include different temperature parameters for the storage of dry, chilled and frozen products. Additionally, each shipment may have a different shelf life. Not only that but the units of measure will vary enormously from batches of goods through to items measured by weight. Working in the food industry track and trace is also increasingly important with organisations having to adhere to the Saudi Food & Drugs Authority regulations.
Infor WMS will help to ensure that every item is handled according to the appropriate processes. Importantly, it will enable Algosaibi to maintain accurate stock levels to meet demand and reduce wastage. The system will also integrate with other applications at the company to ensure the operation runs smoothly and efficiently.
Ghaziuddin Kazi, Supply Chain Manager, Algosaibi Services commented: "The warehouse is crucial to productivity, particularly in a business like ours. Infor WMS provides the efficiency, consistency and quality control necessary to move goods through the warehouse at maximum speed, improving every stage of the fulfilment process, which is crucial given that our facility is used to create around 4.5 million meals every month!
"Because stock is tracked in real-time using Infor WMS, across the entire cycle from receiving, put away, replenishment, picking and dispatch, we will be able to ensure stock accuracy of 99.9%. This live view also means employees can work faster with greater confidence as they have exactly what they need, in the right place, at the right time."
Enterprise Times: What does this mean
Menabev and Algosaibi selected a solution that they believe will meet their requirements. In SNS, they have also found a partner that is an expert in the supply chain field. Talking about the Menabev installation, Wael Mabsout, senior manager at SNS, commented: "Facilities of this scale rely on the very best digital capabilities to optimize operations and maximize performance.
"Infor WMS will integrate with all of MenaBev's key systems to facilitate end-to-end visibility, which is crucial in generating real-time insights and enhancing decision-making to support future growth. Our team's experience in setting up logistics processes of this scale was invaluable in making the right recommendations, especially when it came to integrating with OEMs."
Algosaibi will hope that in a few months they will have experienced the same success as Menabev. They will then be reaping the benefits from a successful implementation.