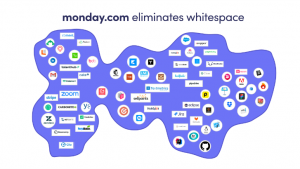 monday.com has announced the next evolution of its platform, monday 2.0. It believes that it is creating a new category of software Work OS. The challenge with this is that as a vendor it is unlikely to create a new category by itself. What it hopes to do is to differentiate itself from other task management or PPM vendors that it is often categorised against. The intention of the new version is that it fills the white space between point solutions such as CRM, ERP and specialist software. It enables organisations and their people to manage every workflow, project and process in a code free way using monday.com.
Having said that, monday.com enables people to work in a code free environment. It has also announced monday Apps for developers. This enables developers to create custom widgets, workflows and intergrations that are beyond the capability of the code free solution. monday.com that in combination, this will enable organisations to eliminate manual processes. Perhaps this will eliminate the use of paper for the first time.
Whats in this release
This announcement is less a new product but more a milestone in development that monday.com has attained with its platform. In a webinar hosted by Roy Mann, Founder & CEO and Ran Zinman Founder and CTO, monday.com. Mann noted that "monday.com is now a lot more than project management. You can plan track and run any process and workflow in your team and company"
The recent improvements include:
Columns: Columns allows users to view data in a structured and consistent way. Organisations can now add new column type, in total 42 options are available. However, customers can create new ones, supporting custom data for even more flexibility.
Automations: There are now more than 100 prebuilt automations and users can create more in the code free custom automation builder available in beta. Users are assisted in creating no code automations with prompts.
Integrations: monday.com already has more than 50 integrations in the last few months and is promising more. It has also extended its open API. With an extended API developers can increase the flexibility of their organisations on the monday.com platform.
Dashboards: Users can create custom dashboards relevant to their role using more than 25 interactive widgets, monday.com will be adding more widgets in the near future.
Workload: Resource managers and Managers can quickly visualise the workload on staff. Enabling the allocation of tasks quickly. monday.com will add further enhancements, including filtering in the future.
Whats coming
monday.com did not restrict itself to announcing what is in this release it also indicated what it is working on now. These features should be available in beta during Q1 2020.
Sub-items: Available in beta from March 2020. It enables users to break down entities on boards to sub items. For example tasks into sub tasks. Sub items can be dragged and dropped between entities increasing their flexibility.
Workspaces: These are mini hubs designed to be a collaborative space for teams to work towards common goals in shared workspaces. They will allow larger companies to scale monday.com. Each hub can control different permissions, enabling a different set up for different teams within different departments. This is available for enterprise customers only.
monday Apps: The other major announcement is the ability for developers to create applications on the platform. Zinman noted that it was: "another step to reaching our full vision to the platform. Developers can expand any part of the platform. We are democratizing the build out of monday.com." Developers initially will create apps for private use only, ie within their organisations. Within the next two quarters monday.com intends to open up a marketplace so that people can release apps to the community. It is open for applications to join the beta program.
Enterprise Times: What does this mean
A major update but with probably the biggest announcement not quite available. While the enhancements to the monday.com platform look solid they appear, at first glance, to be mainly iterative.
There are also a lot of questions around the monday Apps announcement. What kind of developer platform will monday.com provide? Will there be a sandbox for developer to test and a staging environment? What developer tools are they providing? Can developers ensure that their code is maintainable with future releases?
While monday.com is promising to open up a marketplace for developers to share apps will this be an business opportunity for ISVs? They also have to make decisions about maintaining the quality of code on the marketplace and certifying shared apps. This is not a simple process and they will have to make more details public.
Their stated timescale may be longer than two months. Workday has already found it can take a considerable time to build a robust and trustworthy marketplace of apps.