At DevOps World, Enterprise Time caught up with Moritz Plassnig, VP Cloud, Cloudbees. Plassnig falls into the category of an AcuiHire. He ended up at Cloudbees when it acquired CodeShip, the open source project that Plassnig was instrumental in setting up. Being VP of Cloud doesn't seem to be a job that comes with much free time.
In his own words, Plassnig is responsible for M&A such as the recent acquisitions of Electric Cloud and Rollout. He is also responsible for products such as Jenkins X, Rollout and CodeShip. We asked Plassnig to talk a little more about the big announcements at the show.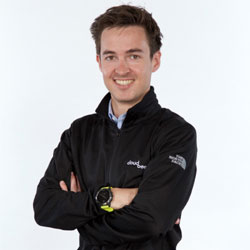 One of these is that Cloudbees is working with Google on their Anthos strategy. It's a project that is important for Cloudbees. According to Plassnig: "It enables a customer to run workloads on Google Cloud, on-premise and on other cloud providers." Plassnig sees this as changing the landscape for the better. It takes away the often unexpected lock-in when running workloads in cloud. As organisations move to a true multi-cloud strategy, portability of workloads is critical.
Importantly, this is not just about companies with a true cloud native strategy. Plassnig understands that customers are at different points on their journey. He see Google Anthos as making it possible for Cloudbees to service all it customers. While this might make it easier for Cloudbees to help customers to the cloud, what does it mean for Cloudbees. We pressed Plassnig when we would see all of Cloudbees products delivered in their own containers.
As Plassnig is in charge of M&A, ET also challenged him as to what he would buy if Sacha Labourey, CEO, Cloudbees were to give him a blank cheque. Plassnig didn't take the bait. He talked instead about the need for people rather than additional products.
To hear what else Plassnig had to say listen to the podcast.
Where can I get it?
obtain it, for Android devices from play.google.com/music/podcasts
use the Enterprise Times page on Stitcher
use the Enterprise Times page on Podchaser
listen to the Enterprise Times channel on Soundcloud
listen to the podcast (below) or download the podcast to your local device and then listen there