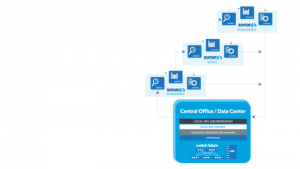 At the Open Networking Summit ONS Europe in Amsterdam, SONAR4 announces its European release of its assurance analytics and automation solution for next-generation networks. Powered by Mariner, SONAR4 enables communication service providers (CSPs) to fast-track next-generation network adoption, bridging SDN and NFV. The claimed result is a seamless end-to-end service experience.
"Existing assurance and analytics approaches fail to address the dynamic end-to-end context of SDN and NFV deployments, and therefore, cannot confidently deliver the necessary business awareness to drive decisions and automation," states Jim Foran, Vice President, Strategic Development and Head of Commercialization for SONAR4.
"Automation, disaggregation and virtualization are key enablers of successful next-gen network deployment, but introduce unique new challenges and blindspots. SONAR4 maintains real-time situational awareness across the service path and technology stack, enabling smarter automation and better problem resolution by a wider set of stakeholders."
ONS Europe
ONS Europe is an open networking forum at which enterprises, service providers and cloud providers across the SDN / NFV ecosystem:
share knowledge and experience
highlight innovation
examine orchestration and the automation of cloud, network and IoT services
discuss the future of Open Source Networking, especially as related to SDN and NFV. .
The SONAR4 solution demonstration at ONS Europe addresses the complex challenges of SDN and NFV relative to end-to-end service assurance including:
orchestration
SDN control
VMs
containers
switch fabric(s)
etc.
Sonar4
Next-generation services involve ever-increasing (virtualisation and containerisation). SONAR4 enables low-latency closed-loop automation at the network edge. It works in concert with orchestration platforms.
By adopting virtualisation, CSPs are reshaping themselves in order to compete in the what will be a very different competitive landscape once 5G arrives. The whole basis of 5G forces certain types of activity to the edge, if only to minimise latency and response times. There are plenty of other good reasons as well:
cell densification
vEPC
vRAN
new bBusiness services (Hybrid SD-WAN, vCPE)
residential services (software-defined access, vCPE and vSTB)
mobile itself.
SONAR4 facilitates Communications Service Providers (CSPs) to pursue the promised economics and agility of next-generation Software Defined Networks (SDN) and Network Function Virtualization (NFV) technologies. It does this by mitigating the risk associated with:
new product and service rollouts
certifying activations
optimisation and automation of daily operations.
Enterprise Times: what does this mean
For the man or woman in the street, or most enterprises, 5G is just another iteration of communication technology which will raise prices, and encourage handset replacement. 2G, 3G, 4G: so what's new?
As the telcos and their partners have discovered, 5G obliges more than a jump like that from 3G to 4G. Not only will the transition be double or triply complex but many of the old telco assumptions will have to go out the window as virtualised networking and computing combine. In this context, offering kike that from Sonar4 will be especially useful.