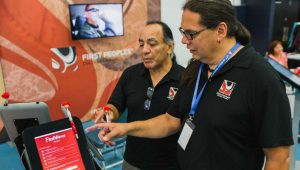 We all face the problem of having to manage and work with huge volumes of content and data. That's as true of the brand trying to use data to make its marketing work as scientific as possible, as the public sector organisation trying to manage increasing citizen information. Here we have an example of an organisation that has made it its mission to end up working with huge volumes of content and data, and to seek out a technology to meet its digital management challenges.
Daniel Yona discusses how content services software is being used to preserve Canadian aboriginal languages that would otherwise be lost forever. He explores the project and its specific content and digital management challenges – as well as well some very human challenges.

In 2003, the First Peoples' Cultural Council, a First Nations-run Crown Corporation, launched an initiative called FirstVoices.com to support the revitalisation of indigenous languages, arts, culture, and heritage in British Columbia, Canada.
British Columbia has the greatest diversity of indigenous languages in Canada (60%), from Hlg̱aagilda X̱aayda Kil to Ktunaxa. The issue is that indigenous languages in the province are in a state of emergency, with fewer than 6,000 speakers still living. Without a solution for preserving this vital cultural heritage, these languages that have been in existence for at least 15,000 years may be lost to the world forever.
Document now – but keep forever
FirstVoices began as the brainchild of two educators in a small tribal school. It was their vision to create a dynamic platform for technically-savvy indigenous youth to partner with their fluent Elders to document their languages for future generations.
Supporting Indigenous communities to collect their own language knowledge is core to the mission of the First Peoples' Cultural Council and FirstVoices. This process consists of sending FirstVoices teams to provide training to community-based language champions. These champions then lead the work in their communities. They collect text, audio, videos, photos, and other language resources for upload to the secure digital FirstVoices database.
As complex as this process sounds, an even bigger challenge facing the First Peoples' Cultural Council was the launch of the 2.0 version of its web-based language documentation platform. The challenge was how to best architect it to deliver the capabilities necessary to serve communities in a modern and secure manner. In order to effectively capture, preserve, and protect Indigenous languages and dialects, a modern and open technology platform for knowledge management was needed.
A philosophical attitude of true 'openness'
The First Peoples' Cultural Council chose Nuexo because it could easily adapt and configure the platform in a way that enabled the organisation to preserve Indigenous languages at FirstVoices. It also demonstrated a commitment to a truly open source approach.
As a founding principle of its mission, the First Peoples' Cultural Council believes 'one demonstrates wealth by giving it away.' It found Nuxeo's open approach to sharing code embodied this same philosophy. Nuxeo was one of the few companies it spoke to that offered full transparency in their product development process. The organisation believes an open platform helps the team demonstrate its integrity and commitment to the First Nations communities it serves.
The First Peoples' Cultural Council saw a mature solution that was fast and flexible. It decided that the platform was pivotal to its ability to launch the 2.0 version of FirstVoices. The Nuxeo platform now serves as the foundation for how indigenous language assets are stored, managed, protected and accessed by the communities FirstVoices serves.
Huge volume of cultural assets
FirstVoices currently stores and manages approximately 400,000 objects in the Content Services Platform. This number is expected to rise. It also uses Nuxeo's workflow management and data-modelling capabilities to validate records to be stored and managed within FirstVoices.
Putting the community in full control
FirstVoices leverages Nuxeo's permissions management features to help restrict access to certain files and objects. This is another key feature since some words are sacred to the communities the First Peoples' Cultural Council serves. It is important that stakeholder communities are in control of their language data, including who has access. As FirstVoices 2.0 evolved, the Nuxeo platform was able to address many such key cultural considerations important to First Nations communities.
A journey that has only just begun

With the 2.0 version of FirstVoices now live, the First Peoples' Cultural Council is actively looking at how it can further leverage the Nuxeo platform. This is in order to improve the user experience for First Nations communities who are managing these precious language assets at FirstVoices.com. In particular, the organisation would like to extend the use of automation and asset syncing tools to help it better manage large volumes of data and content. It would also like to make it easier for community language teams to collect language assets in the field.

Daniel Yona is a Development Manager at FirstVoices. To learn more about the First Peoples' Cultural Council and FirstVoices, visit: http://www.fpcc.ca/language/FirstVoices/
---

Launched in 2003, FirstVoices is a suite of web-based tools and services designed to support Indigenous people engaged in language archiving, language teaching and culture revitalization. The FirstVoices language archive contains thousands of text entries in many diverse Indigenous language writing systems, enhanced with sounds, pictures and videos. There are currently 47 B.C. First Nations archives and 22 archives from outside of B.C. on FirstVoices.com. FirstVoices also features several innovative apps, including FirstVoices Keyboards for use on mobile devices, and dictionary apps for several B.C. First Nations languages. For more information, visit www.firstvoices.com