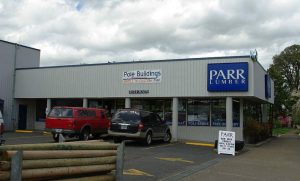 Kerridge Commercial Systems (KCS) has announced that a major lumber and building materials company in Oregon and Washington has selected its K8 ERP. Parr Lumber company runs 33 separate facilities across the two states including several manufacturing facilities.
Since its founding in 1930 by Dwight Parr the company has grown steadily through organic expansion and acquisition. The most recent acquisition was Country Homes Building Supply, a single location operation in Spokane Washington. It also bought land in Cornelius Oregon to build a new manufacturing plant.
Selecting K8
Through its growth it knew it needed to replace its legacy ERP solutions. It previously ran solutions from Epicor and Infor on premises. In a blow to both those companies it selected K8 in an cloud on premise deployment, that will shift to a cloud deployment at a future date. Doug Wirges, CEO Parr Lumber stated: "Through an extensive evaluation process, Parr Lumber Company has selected K8 software, supplied from KCS, as our next generation ERP solution. We are very confident in our choice and excited to have found an ERP software system which will help us to integrate all of our diverse business components into one operating system.
"We believe K8 will be the best solution for Parr Lumber Company, with the required depth of functionality to support future growth. In our search we also recognized many shared values and culture with the KCS team; this will be a long-term and rewarding partnership."
According to a source at KCS: "Neither company could meet their single system requirements". They will implement the 32 core modules of K8 including warehouse management (WMS), business intelligence (BI), ecommerce, CRM and Tool Rental
The decision to select K8 shows how far KCS has come in the US market. Both Epicor and Infor might have expected to make the sale based on Parr Lumber's extensive requirements.  Many previous sales to LBM businesses that KCS has announced are merchants rather than a combination of merchant and manufacturers. K8 has extensive manufacturing functionality to support the Parr Lumber requirements. They include Bill of Materials, Stock control, Works Orders, Traceability, MRP and shop floor data capture.
Wirges also refers to the synergy of cultures between the two companies. This becomes even more important with cloud deployments. Regular updates and continuous improvement ensures that vendor and buyer need to work together in the long term. This relationship building is something that KCS seems to have done well.
What does this mean
This is a significant deal for K8 and may be one of its largest yet in the US for K8. Parr Lumber Company total revenues in 2016 of nearly $416 million (Source Prosales) and was placed 17th largest LBM business in the USA. According to LinkedIn it has between 500 and 1000 employees. Though the number stated in Wikipedia, 850 maybe a little high. Regardless it is a significant user count for K8 and will be an interesting project to follow. As a customer advocate for KCS across the LBM industry. It might just prove to be one of its most important wins.
Alan Cross, KCS Executive Vice President North America commented: "The KCS Team are proud to have been selected by Parr Lumber Company to replace their existing ERP platform with our K8 solution. Parr Lumber Company has an enviable reputation across the United States for their service to the LBM industry, their employees and the Pacific Northwest communities they serve, and we are looking forward to a long and successful partnership together to support their strategic business vision."