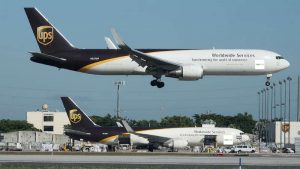 Sage has announced a new integration for Sage Business Cloud. In fact the announcement relates to an integration with Sage Live, the Sage cloud accounting solution on the Salesforce platform.
The announcement on the UPS site is briefer, more interesting and details the savings that Sage customers can obtain that are mentioned but not elaborated on the its press release.
The new integration is available to Sage Live customers in the US, Canada and UK with other regions to follow during 2018. Sage Live is currently supported in UK, Ireland, US, Canada, France, Spain, Germany, South Africa and Australia. However, there is no indication which markets the integration will be available in next.
Real savings for customers
A claim in the Sage press release is that the combination will offer small to medium sized businesses savings. It is unclear from the Sage release what those cost savings are.
According to the UPS release, new Sage Live customers that sign up before 24th October 2018 can obtain up to 20% of a Sage Live subscription. Existing UPS customers in the US can receive up to 36%. These savings do not appear to be available in either Canada or the UK. US customers need to enrol in the UPS Savings Program for Sage Customers and ship using Sage Live to obtain the discount.
The UPS press release is only available on the US site at the moment. As such the 20% discount for Sage Live customers may also only be available in the US. ET asked Sage for comment, but no information was made available before publication. This article will be updated when a response is received.
While the monetary savings are unclear, the integration will deliver time savings to customers. Once orders are entered onto Sage Live, UPS shipping labels can be printed prepopulated with Sage Live order information.
Integration
There are several benefits for SME businesses. With the prebuilt integration, customers are able to select their shipping method and quickly obtain the actual price of delivery. The ability to choose the different delivery options available, including whether they wish to items delivered to home or one of 27,000 UPS Access Points is useful. Customers can compare accurate prices between guaranteed air, ground, and international service and make their appropriate choice. This de-risks the process for the SME.
Businesses are equally able to accurately calculate shipping costs during order fulfilment and add those charges to invoices immediately, reducing the quote to cash cycle. The additional accurate data also means that customers can use the analytics available in Sage Live to calculate product line profitability by region and improve target marketing and promotions.
Absent from this integration is a feed back from UPS into Sage order information. It would be extremely useful for UPS to pass back shipping information into Sage Live to indicate when an order is delivered.
Jerome Roberts, VP, UPS Global Product Innovation commented: "By embedding UPS, Sage customers will get the breadth and reliability of UPS's services to every address in North America and Europe, while easily managing all financial and shipping functions in one platform. UPS and Sage share a passion to empower small businesses to thrive in a global marketplace."
What about other applications
Sage Live is only one of the applications in Sage Business Cloud. The announcement does not include the others such as Sage One, Sage X3 and it will no doubt include Sage Intacct in due course. For Sage X3 the Sage Marketplace has an app called xCarrier TMS bundle that provides companies using Sage X3 with a multi-carrier, multi-modal shipping system. V-Technologies also offers an integration with Sage ERP X3 though it is not listed in the marketplace.
The Sage Intacct marketplace lists Deposco as an integrated supply chain app. US and Canada based Deposco is a certified UPS Ready, and is a FedEx, USPS and Canada Post integrated vendor
The announcement is less positive for Deliverable.com, one of the apps on the Sage Marketplace. It offers an integration between Sage Live and shipping companies to automate the process including UPS. Importantly it also offers integration with other shipping companies such as Fedex. It also draws back the tracking information into Sage Live but it costs $49/month. UPS users are more likely to add the native integration.
What does this mean
For UPS this is a positive move. It makes sense for companies deploying Sage Live to take advantage of the integration and use UPS by default. For Sage it delivers an advantage over some competitors by offering the embedded integration. Whether the deal is exclusive for a period isn't known. However, one would expect other couriers to replicate the integration either with Sage or another vendor.
Nick Goode, EVP of Product, Sage commented: "We have looked at the needs of our customers, and partnered with UPS to provide a shipping solution that integrates directly with Sage Financials to provide Small and Medium Sized Enterprises with the capability of sending the right products to the right customer, at the right price, all at competitive rates. Delivering this value to customers will support them in keeping their competitive advantage."