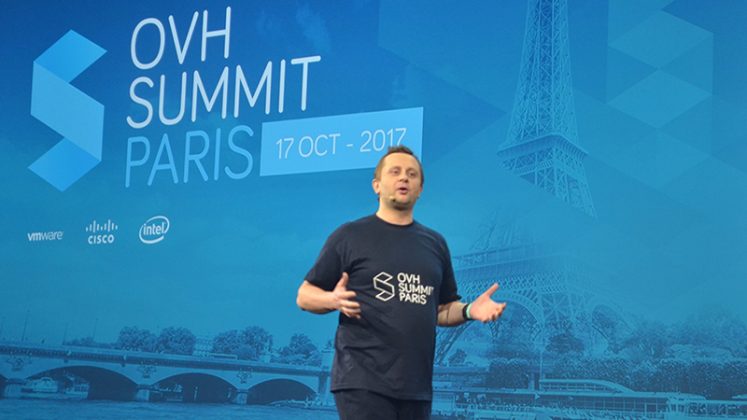 At the OVH Summit in Paris, Octave Klaba, CEOand Chairman, OVH told the audience the company is accelerating its growth. Last year at the its annual conference, Klaba announced a significant funding boost which would see the company invest €1 billion. Klaba has now upped that number to €1.5 billion by 2020 as part of the OVH Next Level strategic plan. This is a significant increase in spending and one that matches Klaba's claim that: "OVH is the only European cloud company that is competing with global leaders."
Accelerating the growth with new data centres and staff
Klaba told the audience: "Two years I said we are no longer a start-up. Now we are a multi-national with 2,100 people. By 2020 we will be an enterprise of more than 4,200 people with revenues of over €1 billion."
This sort of rapid growth in personnel brings its own challenges. It will be interesting to see how OVH manages to stay connected with its customers. It will be very easy to end up with a complex management structure and for the existing management to decouple from the frontline.
This is something that Klaba is keen to avoid. OVH is looking to reassure customers that engaging with the company through this rapid growth phase will be easy. It wants to make sure that everything is about a single point of contact be that customer relations or system interfaces. This is good news and something that will hopefully please customers.
It is not just people that OVH is growing. A year ago it had four major sites around the world. Now it has 10. In addition to the six new sites, including OVH US, it has built new data centres at its existing sites. The vCloud AIR acquisition also brought new facilities in the US. There are now 27 data centres spread across the 10 sites with plans for more expansion later this year. There will be at least one new site, Oregon, USA, later this year.
New growth means a new product strategy
One major challenge for OVH has been its messaging. Klaba admitted that media, analysts and customers were unsure what was happening. He was surprised that people still think of OVH as a hosting company. However, when your company branding on vehicles still talks about the Internet and hosting, what do you expect? As already mentioned, fast growth creates unexpected problems.
Xavier Perret, Chief Digital Marketing Officer, OVH talked about the new strategy. The goal is to split the product offering into three separate pieces. They are:
OVHcloud: This is where OVH is expecting to see its biggest growth over the next few years. It is currently growing at 50% per annum and has a large market share. It will include OVH's high-performance servers for handling critical data. Perret said it is being targeted at companies going through  digital transformation and who want to move from their current legacy platform. It will encompass all of OVH's existing cloud assets including storage, PaaS and network. OVH is to also bring new security solutions and scalability options.
OVHspirit: This is targeted at the historic customer base but is also aimed at new customers who want something smaller than a full on cloud solution. 75% of OVH turnover currently comes from this market segment. OVH has built itself a reputation for supporting start-ups and OVHspirit is where they will now be accommodated. It is also looking at mid-sized businesses who want dedicated servers rather than full on cloud. It will be interesting to see how this meshes with the vCloud AIR acquisition going forward.
OVHmarket: This is intended to support another part of OVH's historic marketplace – telecom and web. It will be where customers go to buy web hosting, domain names, VoIP or xDSL.
What was reassuring was the commitment to make accessing these services through a single client interface. There will also be a single API that will make it possible for customers to take advantage of whichever offering it wants.
What does this mean
OVH is not only going through a massive growth spurt but is having to recognise this means changing the way it works. After last years expansion, this next year promises to be even more aggressive. The big question is whether OVH can sustain enough customer and business growth to cover its ambitions.
On top of these announcements there are several that deal with specific cloud issues which we will address in a separate piece.
At the moment, OVH is playing on being the only cloud company to rival the US and Chinese behemoths. It wants to be at the top table with these companies and be considered an equal. the tagline of OVH Summit is Next Level. There is every evidence from this morning that it has put the right people and money in place. Over the next 18 months it just needs to execute on that. If it does, Europe may finally have a company that shows cloud technology is not beyond its grasp.