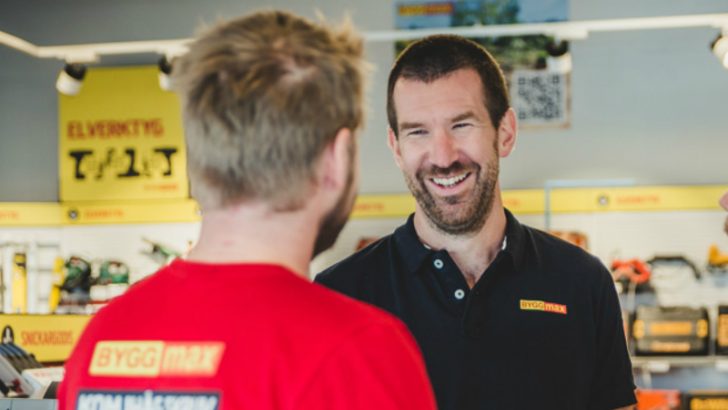 IFS has announced that Byggmax has upgraded its IFS solution to IFS Applications 9. Byggmax first deployed IFS in 2006, its turnover has risen substantially. This new deployment is expected to help Byggmax double its revenue over the following two years. In fact its growth from 2006 SEK 1.35 million to 2008 SEK 2.11 million didn't quite achieve that. Since then however, enabled rather than caused by IFS, the revenues have soared to SEK 5.219.3 billion.
Byggmax is not merely upgrading to a new version but plans to take advantage of the several new features. These include the role-based lobbies that deliver a personalised homepage solution to end users based on their job role. This is supported by IFS streams, which deliver notifications based on event triggers within the solution.
Supply chain key to Byggmax
Interestingly the press release also stated that Byggmax will take advantage of selected IFS components for financials, distribution, supply chain, and retail. Byggmax only recently implemented a supply chain solution RELEX. It seems unlikely that the IFS solution has replaced RELEX and the two systems will be integrated. In 2011 Alfort & Cronholm selected RELEX and IT manager Joakim Keskitalo commented: "Linking RELEX's solution to IFS was fairly simple and we could recycle parts of the integration that we had in place for the old replenishment system. We use file transfers between the systems, and the work that had to be done in IFS we did ourselves."
Byggmax is one of the leaders in the DIY and building supplies market in the Nordics. It completed the acquisition of Skånska Byggvaror in January 2016 for SEK 936 million adding a successful online brand to its portfolio. With 130 stores across Sweden, Norway and Finland and a vibrant ecommerce market, its supply chain is key to their success and growth. Pernilla Walfridsson, CFO at Byggmax commented: "By upgrading to IFS Applications 9, we will have a more flexible solution in place to support our growth. A highly effective IT system enhancing our supply chain and retail operations will enable us to continue to offer a wide range of products at competitive prices both in our stores and online. IFS Applications 9 will also provide a more flexible and cost-effective architecture as well as extended mobility features and business process automation."
Conclusion

Byggmax is an impressive success story for IFS. Their reinvestment in the solution shows they believe the improved functionality will continue to help with their business expansion. There is no mention as to whether IFS is being deployed from a cloud-based architecture or on-premises. This is something that Byggmax will need to consider in the future. It was surprising that it was omitted from the announcement.
Glenn Arnesen, CEO of IFS in Scandinavia, said: "I am pleased to continue our partnership with Byggmax, a rapidly growing company and a highly respected brand in the Nordic region. We are continuing to see major retail brands choosing IFS Applications thanks to our flexible architecture and robust industry functionality. We look forward to working with Byggmax as we continue to focus on developing IFS's offering for the retail sector."
That retail sector is about to become more congested. Last year NetSuite announced a major expansion in the Nordics region. Subsequently IFS may find that new business may be a tougher win in the near future. What is clear is that IFS retains the loyalty of its existing customers.