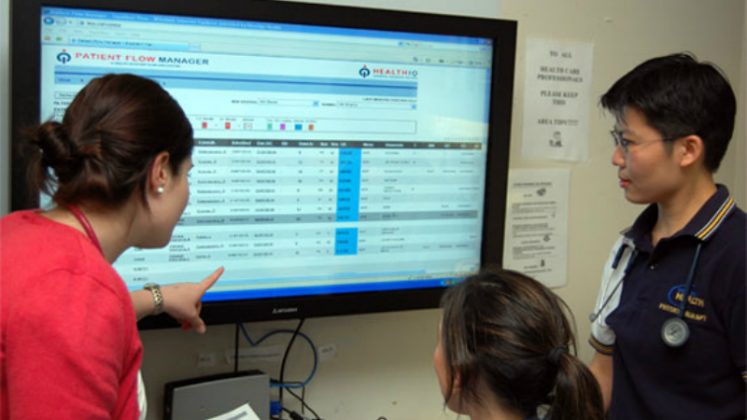 Telstra has announced that Epworth HealthCare will implement Telstra's Patient Flow Manager (PFM). Once implemented, the solution will draw together data from across its seven hospitals and two specialist centres around Melbourne, Australia.
The challenge
Epworth has a fundamental goal to improve patient's lives. Part of that is to ensure that they are able to maximise use of beds and facilities. This is an area in which technology has not historically played a huge part. Epworth Richmond Executive Director, Nicole Waldron explains: "The current process for managing bed flow across the sites is manual and relies on a series of meetings and conversations between staff about planned or potential discharges. The flow of information can be time consuming, reactive, subject to individual interpretation and sensitivity. As a result of the manual process, there is no real-time or accurate visibility of current bed status across the organisation."
To address this, Epworth has selected PFM to have a complete view of patient flow in real time. This will enable the organisation to maximise use of beds a and facilities both within and between hospitals. Waldron added: "The ability of Epworth Richmond to see at a glance inpatient bed status is of critical business importance, as bed occupancy impacts on patient flow, discharge planning, patient and visiting medical officer satisfaction as well as revenue management."
Patient Flow Manager improves more than patient flow
Epsworth is looking for several benefits once the solution is implemented. PFM collects data from both demand and capacity elements in the hospitals. It collects and centralises data from inpatient, elective, emergency and outpatient systems. Data is then viewed graphically allowing administrators to quickly view areas of concern and spare capacity.
It not only displays information about the situation in real time but also the current KPI's status and patient flow trends across the hospital. This can help health professionals improve patient care, alleviate stress points and manage demand better. As Epworth expands in the future they will be able to add new facilities to the platform quickly. This will allow them to identify shortfalls and prioritise the addition of new services in those hospitals.
Telstra Health's Sales and Marketing Director for Health IQ, Dave Piggott commented: "With Patient Flow Manager in place, Epworth Richmond staff will be able to manage the patient journey within the hospital – from admission to discharge – more efficiently. Staff will know bed capacity and demand in near real-time allowing them to plan for and forecast future demand."
It will also free up Epworth medical staff from coordinating patient discharges and movements within and between hospitals.  This will subsequently improve patient healthcare with the additional time available to spend on patient care.
Conclusion
In 2014/15 Epworth handled 141176 patient admissions, 25, 691 emergency department attendances and 90,210 operations. They will hope to increase those merely through implementing the software.  More than 100 other hospitals already using the system have seen benefits. These include a 1 day reduction in length of stay, a 30% reduction in unexpected re-admissions and a 300% reduction in time to bed ready. If they manage to achieve these then the investment will have been worth it.
Piggott concluded: "As a provider of healthcare technology, our focus is on developing solutions such as Patient Flow Manager to help healthcare providers like Epworth HealthCare find better ways of serving their patients and improving hospital efficiency. Patient Flow Manager is now in use at more than 100 hospitals across Australia, providing a targeted solution to a range of real problems hospital staff face every day."