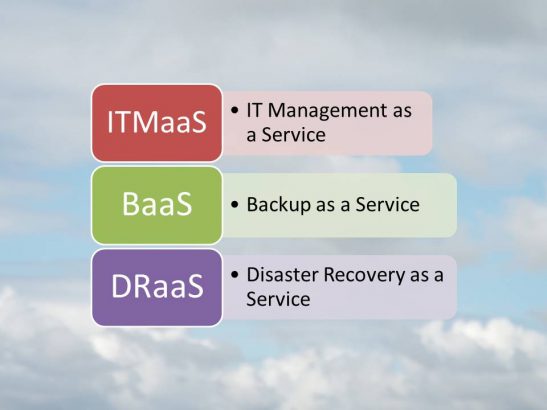 This weeks Cloud Acronyms: ITMaaS, BaaS and DRaaS
ITMaaS: IT Management as a Service
One of the key jobs for operations teams is monitoring the health of the IT infrastructure. As that infrastructure evolves and begins to incorporate on-premises as well as multiple cloud-based environments, the monitoring gets increasingly more complex. IT Management as a Service (ITMaaS) is a suite of monitoring and service desk applications delivered through Software as a Service (SaaS).
The applications break into three different categories covering problem management, planning and the monitoring of infrastructure and applications. ITMaaS pulls all the data together into a single dashboard. The customer is able to see where its current problems and bottlenecks are and compare the health of their various system components against calls to the IT Service Desk.
It also provides companies with the ability to track how resources are being used so that they can do capacity and predictive planning. For service providers, it also gives them the detail required to bill customers.
BaaS: Backup as a Service
This is one of the most easily justifiable cloud services for many IT departments. Backup as a Service (BaaS) enables the customer to backup and restore from the cloud. Rather than the company purchase its own backup hardware and software, the cloud provider foots the bill for the hardware and software required to do the backup.
Customers often install a local cloud service that backs up the data, applications and even snapshots servers when they are not being used. When the data, application or server needs to be restored, the customer can determine where it is to be restored. It might be to a local machine or it might be to a cloud location.
BaaS has become increasingly popular with dealers and Value Added Resellers (VARS) who see an opportunity to retain customers by offering their own BaaS solution.
DRaaS: Disaster Recovery as a Service
Disaster Recovery (DR) planning is something that many companies struggle to not only get right but few are able to test or prove it works. Unfortunately, good governance requires that companies have comprehensive DR plans. In the 1990's stock trading companies began to deploy their own alternative dealing rooms inside data centres. This gave them the ability to replicate their on-site infrastructure and to switch operations without any significant loss of time or money.
While this worked for the financial services market it was extremely costly and out of the reach of many companies. For most companies DR was and still is about the continuous replication of core systems to a secondary location. Should the primary location become unavailable for any reason, the company can switch over to the secondary location and continue to function.
With the advent of cloud computing companies began to developer Disaster Recovery as a Service (DRaaS) solution. Customers can replicate their systems to anywhere in the world and even create multiple simultaneous copies of their environment. The low cost approach of cloud computing means that they are able to protect more of their systems than before and they are often paying just a small amount of money for the use of the service. Only when they bring the DR site live for real do they start to pay usage fees based on resources and storage.