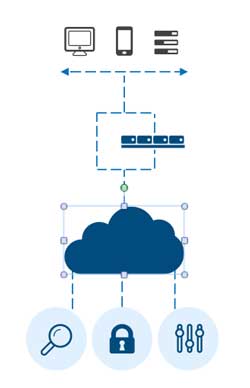 CTERA has announced that after two years of work it has finally finished the CTERA Enterprise Data Services Platform v5. Citing it as a major milestone Liran Eshel, CEO and co-founder of CTERA Networks said:
"CTERA has embarked upon a journey with the modern enterprise, helping tens of thousands of organizations transform enterprise IT departments into IT-as-a-Service business partners by delivering a truly unified file services and data protection solution that empowers both the employee and the IT manager. With our milestone release of 5.0, data now follows the user to wherever they work in the world, and IT governance follows the data."
Extensive feature list for users and administrators
The feature list of what is in v5 is extensive to say the least and CTERA are determined to appeal both to end-users as well as to storage administrators. The full feature list, CTERA platform ecosystem and the Enterprise Data Services Architecture can be found here.
The new end-user features include:
Extensive Browser Enhancements including a new user interface, ability to view over 50 file types online and a simple drag and drop file upload
New device support to include Windows Mobile Phone and Virtual Desktop Secure drive mapping
Updated application agents for Outlook, ability to edit in place (Chrome/Windows only), file versioning and single sign on
Hard disk failure prediction/prevention
Many of these features such as the ability to view file types online, drag and drop and versioning make it easy for CTERA to take on the cloud file sync and storage market. One interesting feature is the hard disk failure prediction feature.
New administrator features include:
Significant security enhancements including AV AntiVirus and Malware Detection, EMM Enterprise Mobility Management Integration, DLP Data Loss Prevention Software Support and Password Strength Enforcement Policies.
New Infrastructure Support including support for Hyper-V and OpenStack
Cloud Storage on Azure and SoftLayer in addition to existing support for AWS
On-premises storage array support including HP Helion Content Depot, NetApp ONTAP, NetApp StorageGrid
The DLP enhancement is integrated with Symantec Data Leakage Prevention software which will interest enterprise customers of Symantec but opens up the question of when there will be support for other vendors.
The same question can be asked over support for Infrastructure as a Service (IaaS) vendors. Adding Azure and SoftLayer to AWS is good news but there are a lot of other IaaS vendors out there.
One of the big challenges for CTERA will be extending its partner ecosystem. It has already made its own API's available for partners to use but much of the work at the moment is coming from CTERA itself. The next stage has to be persuading a wide range of companies to help widen the number of integration points.
It has taken two years to get version 5 out of the door. Without partner help, CTERA will find itself beginning to fall behind other platforms and may struggle to compete as the enterprise file and sync vendors keep stepping up their game.