Enterprise Times spoke to Corey Tollefson, President of Worldwide Field Operations and Chief Revenue Officer at Blue Yonder. Tollefson joined Blue Yonder in July 2022 alongside Duncan Angove, whom Enterprise Times spoke to in 2022. First up on the question list is the thirty-second pitch for Blue Yonder.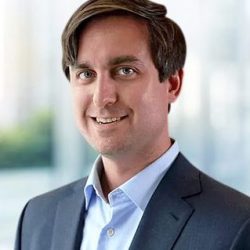 "There's the old Blue Yonder and the new Blue Yonder. The new Blue Yonder is Duncan Angove and I. We started on July 1st of last year. We were attracted to this company because of the deep heritage of supply chain and commerce solutions — the golden age of software with I2, Manugistics, JDA and E3.
"The opportunity to consolidate all those brands and go to market with a next-generation platform was really attractive to us. I think of us as potentially becoming the Salesforce of supply chain and commerce. There hasn't been a single supply chain vendor aggregating this space, and we want to be that company that aggregates the space."
What's your role?
"I'm accountable for roughly one and a half billion dollars in revenue that we do a year. It's a sales role. it's a go-to-market role, its value attainment role. It's working with our CX team to ensure we're providing great customer experience, so they renew their SaaS."
How has Blue Yonder changed
What are some of the best practices you've implemented as CRO?
"First of all, whenever you join a new company, you don't want to go in just guns blazing and making a bunch of changes. The first six months, we listened, sat down and met everybody, literally all the heads. We did everything, from development reviews in the first month then product strategy reviews for the next month. Then, we walked through operations. Where did we make our investments? Were they in the right spaces?
"We concluded there are two areas of focus that we needed to re-emphasize. One is around the client experience. It doesn't matter if you sell a bunch of projects if they're not going to be successful. We put new governance, a new emphasis and more resources and capital towards customer success.
"In the past, we defined success as getting a signature and passing it over to Accenture or Deloitte. We can't do that now because we're also operating their applications. We define success as them getting live and getting value from consuming the software. Ultimately, what we want is for them to renew. So, there's a greater emphasis on resources to ensure that they're getting success and they're consuming the software.
"The other thing we did was we realised that we over-indexed in other areas, perhaps. So we've put a bigger emphasis on go-to-market and sales. The go-to-market organisation globally has roughly 800 people that live and breathe getting customers, analysing and evaluating all of our software, and looking for ways to do one plus one is three."
On the market
What is the opportunity?
"We've got over 3,000 customers, most of them the super tier one Fortune 1,000. Of those 3,000 customers, only a fraction use more than one application. I'm just salivating if we could pivot this company to think more like a suite company versus a best-of-breed point solution company. From the DNA that Duncan and I have had from Infor and Oracle, we always looked at cross-pollination. Why doesn't it make sense to go with us for WMS If we already have TMS?
"The third area is around pivoting the company and our thinking from being a point solution provider to looking at it from a suite perspective. It's not just from a go-to-market perspective. Our owner is Panasonic. Panasonic has got deep pockets. They don't look at things in quarters or years. They look at it in decades. These guys are like, here's a lot of money; you guys pivot the organisation how you want."
Over the next 36 months, Tollefson said that the investment in development would see Blue Yonder delivering a suite leveraging cloud technology with partners such as Snowflake.
What does it mean to have a software-driven supply chain?
"What we're trying to do is do an AI-driven supply chain. You turn on the TV, the industry in the last six months has changed more than the previous 20 years. AI has fueled everything. We've just put together a team focusing on Chat GPT, and how do we improve everything we do using Chat GPT?
"For example, on the customer experience, can we leverage Chat GPT to reconcile support questions? Can we fuel Chat GPT so we're not reinventing the wheel on a question that BestBuy might have versus a Walmart or another company? The other area is, can we develop our software more efficiently and effectively? How do we communicate across the 6,000-person Blue Yonder company and get better, more efficient at developing our software to get quicker results?
"Also, the way that we go to market? We've got a team that spits out customer responses, answering (questions such as): Does your product do this? Does your product do that? In this scenario, what would it do? How efficient would it be to send results back immediately versus having to wait for us?"
On Generative AI
Are you using Chat GPT to generate code?
"We are going to generate code using Chat GPT. We've built a team over the last quarter that will help us find ways to do so. The intention isn't to reduce the number of development heads, which I've heard Salesforce say. We are trying to augment the existing developers that we have today to make them more efficient and better at what they do.
"One of the low-hanging fruit today is embedding chatbots along the entire supply chain process. If you think about what Blue Yonder does, there's planning. If you're a manufacturer, you call it planning; if you're a retailer, you call it demand forecasting. That then translates into your transportation to your distribution network, so your supply chain management.
"Think of it as your forecast or your plan through execution into your warehouse. Our framework: We bought a company called Yantriks three years ago. Yantriks was all the young kids at Yantra back in the mid-2000s, which was the first LMS solution that ultimately was acquired by Sterling Commerce, and then IBM got them. The young engineers decided to go off and build Yantriks.
"We bought that, and it's a separate team within Blue Yonder. That underpins how all of this ties together. Everything from forecast to execution, tied together through microservices around order management and order fulfilment."
The future
What do you hope to achieve in the next six to 12 months?
"Our history is we're very much organic and inorganic growth. At Infor, we did some 40 acquisitions. We want to go out and do something comparable. But we also are growing the business organically. Over the last three quarters, we've had double-digit increases. We've done it from a product perspective. We put an emphasis on the platforms that are driving the most growth.
"From a customer experience perspective, we emphasise internally getting customers' live, happy and consuming. We've also become a magnet for talent. Internally, Blue Yonder has had over 50 promotions since we started in July. We've also brought in several hundred folks, new talent into the company. We're looking to hire an additional 1,000 employees in the next 12 to 18 months.
"The new talent that's coming in isn't your typical talent. We're bringing in a lot of interesting folks like Uber freight and Uber logistics people. We're bringing in Google executives. And we're bringing in industry experts, too."
This strategy for growth is paying off. In Q1, it saw double-digit growth across all geographies and products. In Q2, it added 42 new customer logos.
Tollefson continued, "We've got a laser-focused next-generation roadmap that customers can take advantage of while preserving their ability to upgrade in the future. We want to be more of the friendly Workday type of provider than the legacy type that goes in, signs a contract, and goes away. In the next 12 months, we'll continue to pivot and become more of a service-driven culture. That's how we want to differentiate."
The CRO question
What's the one question you'd like to ask another CRO to answer?
"Are you representing the products of today, or are you representing the products of tomorrow? The reason why I say that is because software is like fashion. It's not who you're contracting with today; you're contracting for the future. One thing that makes me proud of working at Blue Yonder is the investment that Panasonic is making. They're making well over a billion dollars worth of investment over the next 36 months. That's more than the next three competitors combined."
The Book question
What was the latest book you read? And what was your take out for business from it?
"The last book I read was about Lorenzo di Piero de' Medici. His father, Cosimo, invented the concept of carried interest in the early 1400s. What I loved about it was he was the type of guy who just didn't take his wealth and buy more houses. He was the type of guy who took his wealth and cultivated the arts. I love that story of how he was a great businessperson and ruler of Florence, and he also gave back, which was pretty cool."