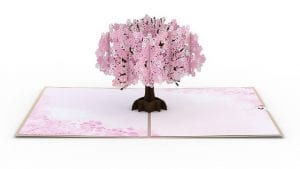 Boston based Lovepop card maker has turned to Brightpearl to help support and grow its multi-channel retail operation. Lovepop sells more than 100,000 3D laser cut card sculptures across the world each month. The cards are sold at its eight retail locations, through thousands of third party retail stores and online via its own site as well as Amazon and Etsy.
The company selected and deployed the Brightpearl solution, leveraging its open API to integrate with other solutions. The solution provides a single source of truth for inventory, reporting and sales information as it continues to grow. The single solution enables it to track operations across all its existing channels and add new ones easily. It also provides Lovepop with a single view across the whole operation.
Dan Nephew, Director of Systems & Operations at Lovepop commented: "Brightpearl is the solution we were looking for because it provides flexibility to make changes based on how our business evolves across our E-Commerce, Wholesale and Retail channels.
"We are now able to adjust order flows more easily based on changing business dynamics. Its single point of truth and real-time data helps us manage large seasonal surges in demand. In addition, the level of custom service API integration we have with Brightpearl would not have been possible on our prior platform. Brightpearl allows us to offer more value to our customers and reduce costs of fulfilling orders. 
Integrations matter in a hybrid architecture
Is Lovepop using the Brightpearl open APIs? They would allow it to integrate its manufacturing and PLM solution, provided by open source ERP vendor Odoo. Brightpearl also provides an integration to Shopify which Lovepop also uses for its eCommerce store. This hybrid architecture sees Lovepop deliver some a mix of best in class solutions best suited to its current operations.
Nephew continued: "For Lovepop to operate effectively with finite internal resources, we need visibility across our entire business and easy integrations with 3rd party marketplaces and applications. The implementation was straightforward, our support has been great, and we now have a platform in Brightpearl that can help take our business to the next level".
Brightpearl also provides LovePop with the ability to manage and scale its multi-channel retail operation. Importantly, as the competitive market increases, the firm also has increased efficiency to ensure that its pricing remains competitive. Manual processes have been eliminated at Lovepop. This is timely, as the COVID-19 lockdown limits the number of people who can work in close proximity.
Justin Press, SVP Customer Success at Brightpearl commented: "With a growing range of innovative products, Lovepop is a major disruptor in the greeting card industry. They understand that the ability to scale and support enhanced experiences relies on having a true end-to-end retail solution in place. With Brightpearl's automated and reliable retail operations platform taking care of their everyday processes, the Lovepop team can get back to focusing on what they do best — creating unique cards that delight customers."
Enterprise Times: What does this mean
The Brightpearl retail ERP is delivering an multi-channel solution to a company that works and operates internationally. In recent weeks Brightpearl has announced a string of successes across the globe. Zookal, an Ed Tech retailer (Australia), Armed Forces Gear (US), and Bond Touch implemented Brightpearl in only forty days.
To survive, retailers need to consider their modus operandi at a time when traditional sales outlets are unavailable. Brightpearl provides a cloud-based, multi-channel solution that enables companies to explore and develop new routes to market. It allows them to do this without deploying new solutions. However, it is not the only solution available as NetSuite has recently demonstrated at Interior Secrets.