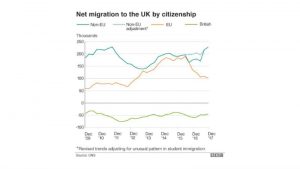 For those who believe that Brexit will only occur on March 29th, 2019, they are mistaken. At the national level such an assertion might be true. At the business level 'things are already on the move'.
Take one simple example, car insurance in Cyprus provided by AIG, the American insurance giant. In June 2018, long before any withdrawal agreement completes its negotiations, it wrote to customers as follows:
"We are restructuring … in response to the UK's decision to leave the European Union (the EU) (commonly known as "Brexit"). We are implementing the restructuring to ensure we can continue to service policyholders and claimants in the UK and across Europe after Brexit.
"We are proposing to transfer all of our European insurance business, including your policy and/or claim, to AIG Europe SA (AIG Europe), another insurance company in the AIG Group, incorporated in Luxembourg and authorised by the Luxembourg Minister of Finance and subject to the supervision of the Commissariat aux Assurances (the Proposed European Transfer). The proposed European Transfer is subject to necessary legal and regulatory approvals. If approved it is expected to take effect on 1st December 2018.   …
"The Proposed European Transfer is to be implemented by a common insurance business transfer scheme under Part VII of the Financial Services and Markets Act 2000 and a cross border merger under the European Cross Merger Directive 2017/1132. …"
The effect?
Elsewhere the letter goes on to say: "The Proposed European Transfer will have no effect on the cover provided by your current policy, your obligations under it, or the way it is administered. Our obligations to you will not change but your policy and/or claim will transfer … to AIG Europe"
Then comes the first zinger.
"Your eligibility for access to the UK's Financial Services Compensation Scheme and Financial Ombudsman Service may change and a different regulatory regime will apply to AIG Europe after the transfer. This is described in more detail in the frequently asked questions document (the Q&A) enclosed with this letter. …"
The second zinger has no mention. Once started, unless there is a legal impediment, this is unlikely to reverse. Once the changes have occurred, it will be too late.
What does this mean
Those who argued that, because there is no equivalent of a EU customs area for services, no harm would come to the UK services industries might now want to eat some words. Not only is this business – represented by a group of single car insurance policies – moving location but it is probable that the supporting underwriting, investment and administration is on the move as well.
But Brexit hasn't happened some may cry.
It does not need to. Other considerations must be taken into account.
The UK is already – a full 9 months before Brexit day – sliding down a slippery economic slope which will see a gradual diminution of the UK's ability to keep businesses and incomes it once had. It is happening also with EU nationals: their number are in decline. It is happening with insurance. Where else?
What too many in the UK and most of the UK's politicians have failed to understand, in general, is that businesses and especially services, do not yell from the tops of the trees about 'their changes'. They just proceed. What might start as a trickle can become a flood before there is time to notice – never mind react.
Brexit impacts are under way. Of course, car insurance is one trivial, minuscule example. Yet Brexit hasn't even happened.