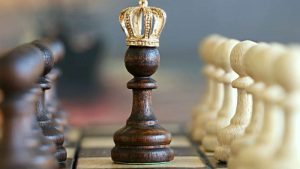 CornerStone OnDemand has finally appointed a CMO. The announcement that Adrianna Burrows will join the company on 19th March 2018 should bring a focus to the company that some say has been lacking. Den Howlett wrote in Diginomica as far back as 2015: "The one area I question is the lack of CMO. I get that regions and industries behave differently which accounts for the fact that Cornerstone has organized its marketing along regional lines. But I wonder whether this leads to too many competing priorities and a lack of attention to brand."
Burrows will report directly to CEO Adam Miller. Miller commented: "We are excited to welcome Adrianna to our executive leadership team. Her expertise working with premier global technology brands will be instrumental in the execution of our strategic plan, particularly as we sharpen our focus on recurring revenue growth and capitalize on our opportunities around learning content, as well as our Cornerstone Recruiting and Cornerstone HR suites."
Who is Adrianna Burrows
Burrows joins CornerStone OnDemand after a two year stint at Stack Overflow. Stack Overflow itself seems to be in a degree of turmoil. Techcrunch reported a few months ago that it was reportedly laying off 20% of its staff as it refocussed its business. While there, she will have led the marketing drive on that company's recruitment business. She is therefore familiar with at least part of the HRM but her efforts, with the support of the rest of the company, will hopefully have more success.
Prior to Stack Overflow she had senior marketing leadership roles at Microsoft. She moved across several domains in a career that spanned nearly six years. Her final role was as General Manager of channel, retail and field. Prior to Microsoft she worked for Waggener Edstrom on the Windows account, joining that agency from Edelman Worldwide.
He new role will see her responsible for the global marketing functions at CornerStone OnDemand. It will include branding, corporate marketing, demand generation and marketing communications. Burrow commented: "Cornerstone's vision for its next phase of growth and the enormous potential to expand the company's brand make it an exciting time to join this talented team. I look forward to playing a key role in Cornerstone's evolution into a high-growth SaaS company."
What does this mean
With an experienced marketeer in the new role it will be interesting to see what changes at CornerStone OnDemand. The company is recognised as a leading player and Gartner placed it as a leader in its latest Talent Management quadrant. However, it was seen as more of a challenger by Fosway in its latest grid. Burrows has her work cut out and several key decisions to make. Will she look to update the brand? Where will she focus the marketing efforts for the rest of 2018?