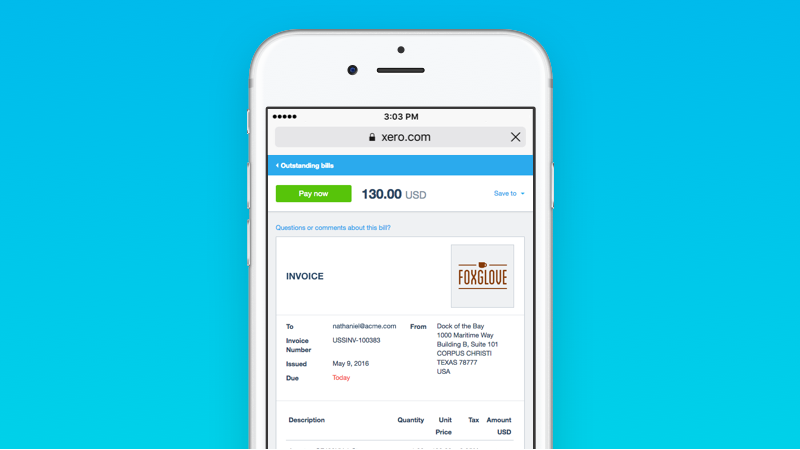 In a blog by Craig Walker, CTO at Xero he has revealed some of the latest changes in the release of software that Xero rolled out. This is not a major release but delivers two main features that some customers will find interesting. These are improvements to invoicing and integration with Braintree.
The first is the rendering of invoices correctly. Xero is now capable of rendering invoices no matter what the size of screen of browser one is using. For small businesses looking to raise invoices on the move this makes the task of ensuring that the invoice they have just raised is both accurate and when printed or displayed by the customer will make sense.
The second is that Xero has finally added support for Braintree. Braintree was acquired in September 2013 by Paypal and offers a mobile payments solution that supports an impressive list of payment types including cards, Paypal, Paypal One touch, Venmo, Apply Pay, Android Pay and Bitcoin. The payments provider also works in several countries across Europe, North America and Asia.
It is interesting that Xero has taken this long to add Braintree, the software already has integrations with Freshbooks and invoicing solutions Hiveage and HostBill as well as a partner integration with NetSuite ERP. Braintree transacts more than $50bn across 130 currencies. Although the company now operates from 7 locations globally, including  US, London, Sydney, & Singapore, its home base is still in Chicago where it was founded in 2007.
Conclusion
The addition of Braintree as an integrated payment solution will help Xero to penetrate the US market. It is likely that the majority of Braintree's customers are based in the US, although this could not be verified.  Ironically the second country that Braintree launched in was Australia, the same as Xero. It is therefore surprising perhaps that this integration has not happened sooner.
Xero has been continuously innovating and adding new integrations and partners to its ecosystem. This is important and this latest announcement will help it to tip the balance in its favour for another tranche of customers.  While it has been quickly rolling out payroll support in the US and adding deeper banking integrations small businesses also want their existing apps to continue working. It will be interesting to see what Xero do next.